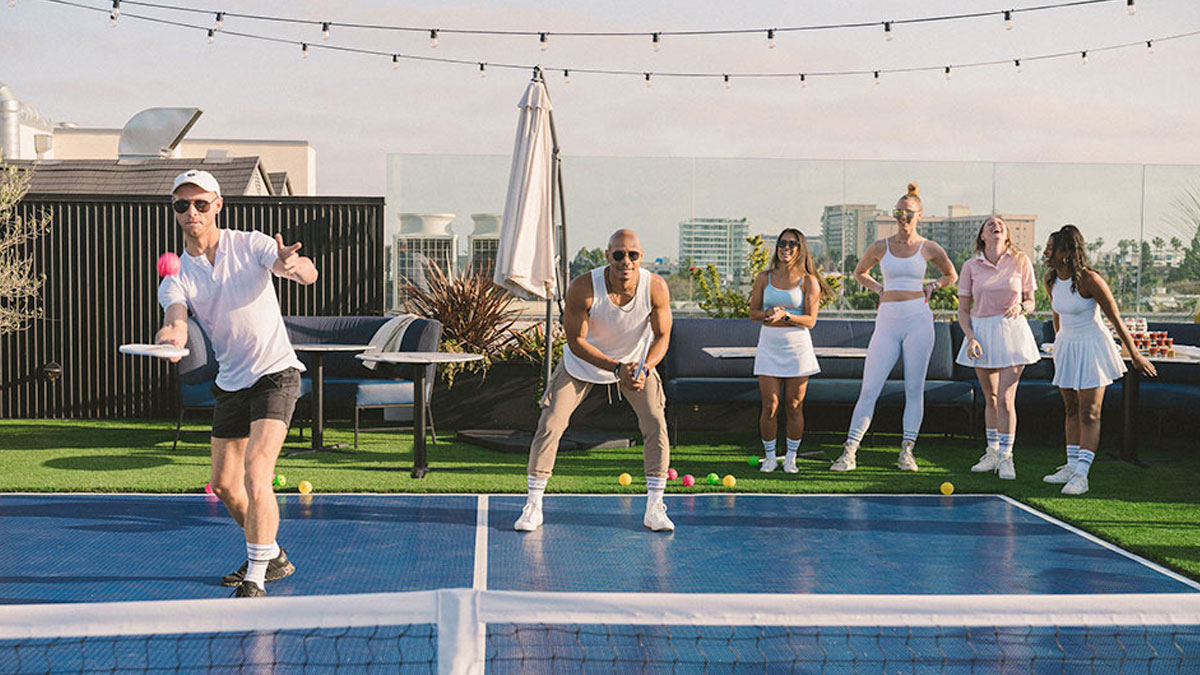 Pickleball got its start in some random back yard. Now it's being played by the jet set with multimillion dollar views of the Hollywood Hills.
The Kimpton La Peer hotel in West Hollywood recently unveiled a decidedly luxurious rooftop court for well-to-do players of the game.
The court is available for private rentals, accommodating up to 12 guests, including food, beverages, paddles, and exclusive use of the roof with lawn games.
On weekends, it transforms into Disco Court, complete with DJs and handmade cocktails.
West Hollywood has been one of pickleball's biggest advocates, having hosted a men's and women's tournament in June.
Pickleball's origins date back to the summer of 1965 on Bainbridge Island, Washington. Created by three fathers as a way to entertain their children, the game quickly grew beyond their backyard. Combining elements of tennis, badminton, and ping-pong, pickleball is played with a paddle and a perforated plastic ball on a court similar in size to a badminton court.
Over the years, pickleball's popularity has surged, especially among seniors and community recreation centers. Its accessibility and social nature have contributed to its rise in prominence, with thousands of courts now available across the United States and a growing presence internationally. The sport's governing body, the USA Pickleball Association (USAPA), has played a significant role in formalizing the rules and promoting the game, leading to professional tournaments and a burgeoning community of enthusiasts.