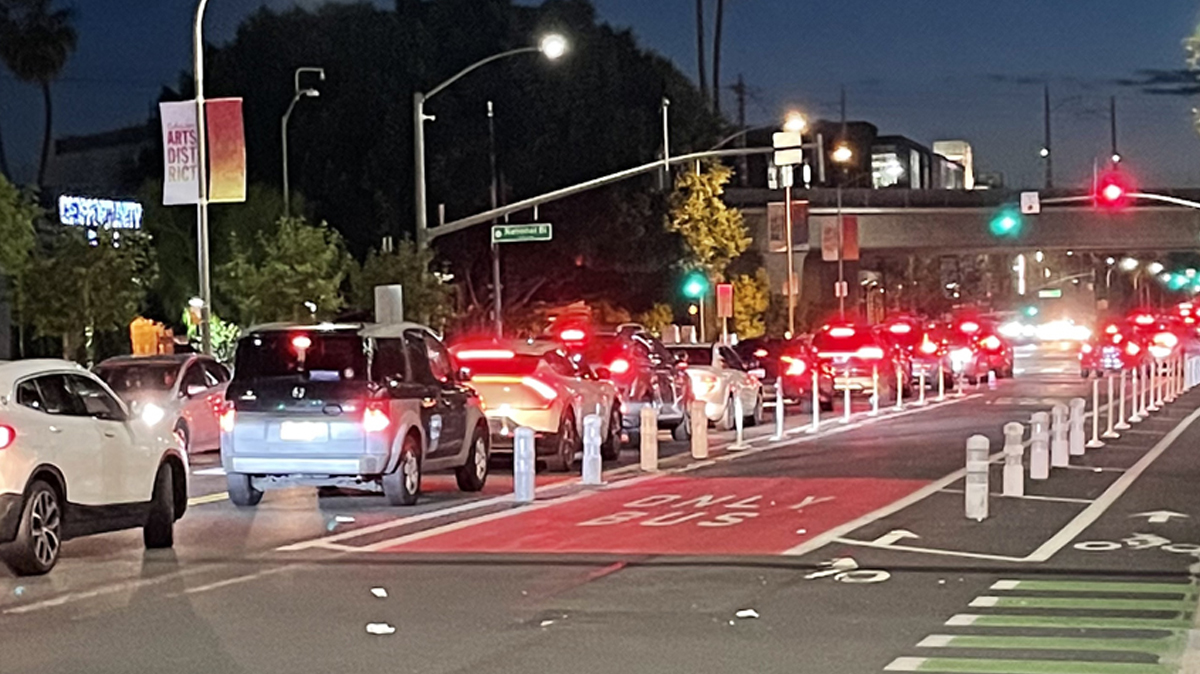 West Hollywood isn't the only small city in L.A. County with ambitious goals for mobility and the environment to go full speed ahead with bike lanes.
In 2021, Culver City reduced a lane of vehicular traffic in each direction on the 1.3-mile stretches of Culver Boulevard and Washington Boulevard between Duquesne Avenue and La Cienega to create a lane for cyclists and scooters and a lane for emergency vehicles and buses.
The "MOVE Culver City" project was lauded as a "model for forward-thinking urban design" by the L.A. Times and celebrated by the cycling community.
But many residents and businesses weren't prepared for the consequences.
The reduction in lanes caused crippling congestion. While the city's metrics claimed the changes added only two minutes to the commute, drivers routinely reported much longer delays. Meanwhile, bus and bike ridership did not see the dramatic increase planners had promised. The design and maintenance of the infrastructure, including street markings and bollards, was also sorely lacking, according to residents.
A change.org petition that collected nearly 2,000 signatures reveals the sentiments behind the backlash:
"I love the idea of bike lanes but MOVE was poorly planned and has made traffic much worse. The bus lanes are completely empty and the traffic lights are completely out of sync. Please remove the bus lanes." — Louis Cioffi
"What a shocking set back for Culver City. The lack of foresight in removing a lane of traffic from an area that was already jam packed during the most critical hours of the day (hours where residents, families, parents, teachers and students move in the afternoons and evenings) is beyond astonishing."  — Susan Antani
"After nearly a year of being in place, the lanes are tremendously under-utilized and the experiment has not substantively reduced traffic (it's increased it), has not increased bike or similar usage or transit use. It's also made it terribly difficult for elderly and disabled pickup, drop off and access. It's time to make changes to this trial and bring back 2 traffic lanes in each direction. "— Kevin Lachoff
"I honestly don't see how this lane is making it safer for bike riders, considering the only vehicles I see in the lane are not buses but rather frustrated drivers of cars speeding through the lanes in an attempt to avoid the gridlock." — Anna Lane
Even some avid cyclists weren't satisfied with the project.
"As much as everybody is for bike lanes and improved pedestrian infrastructure, this particular project was so poorly designed and implemented that it had to be changed," Ali Lex, a cyclist and Culver City resident, told the Westside Current. "The negative impacts on residents and businesses have been really bad."
Culver City's decision to backtrack has only deepened the enmity between cyclists, drivers and the many special-interest groups with stakes in the fight.
If West Hollywood is to follow in Culver City's footsteps, our city leaders must understand what went wrong there. Were outreach efforts insufficient? Were the effects on traffic evaluated realistically? Were potential pitfalls ignored by blind optimism?
Culver City has provided WeHo with a cautionary tale that City Hall should read and re-read before any excavators start their engines. Because "forward-thinking urban design" starts with not fucking up like the guy before you did.