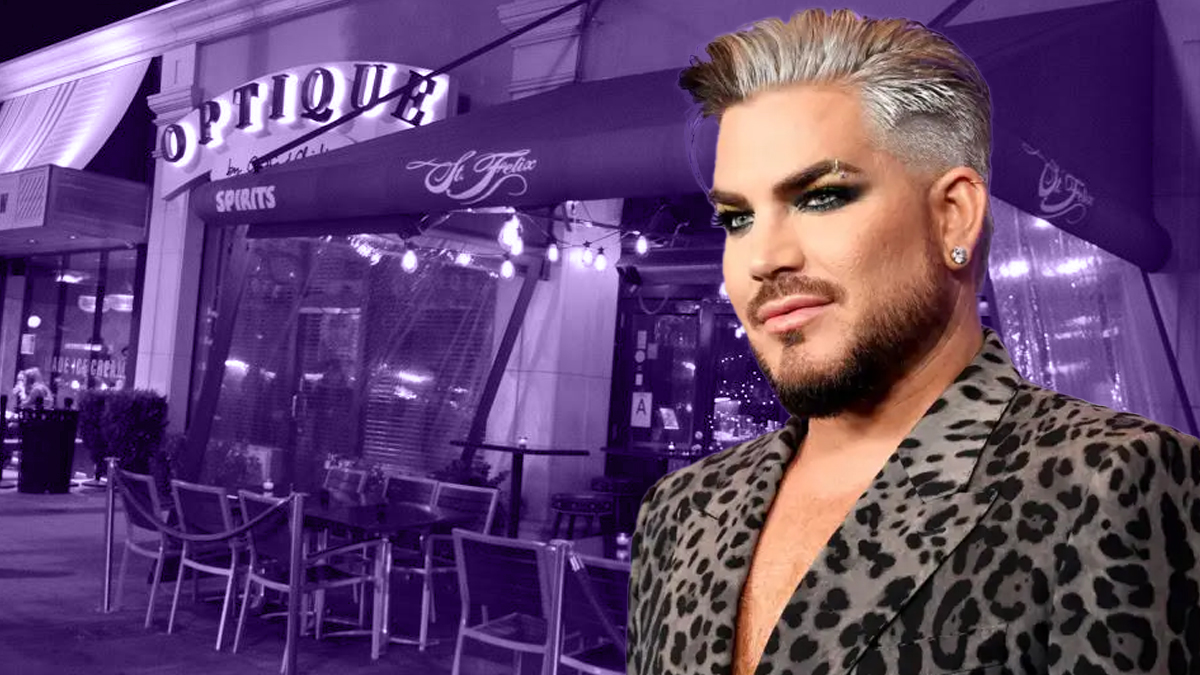 UPDATED 9/1/23
St. Felix will celebrate its final weekend in West Hollywood. The Santa Monica Boulevard establishment will hand the keys over to some notable new owners: Adam Lambert, along with Queen member Roger Taylor and his wife Serena, and partner Bryan Patrick Franklin.
St. Felix's owners John and Chris shared informed their employees this week and shared the following statement with WEHOville:
St. Felix WeHo has proudly served the West Hollywood Community for the past 15 years.
WeHo warmly accepted and embraced The St. Felix Concept and our unique, award-winning food & cocktail culture.  Our customers have become family and have demonstrated unwavering support and love to our staff and ownership. We are forever grateful.
The small business challenges in West Hollywood, compiled with the federal underfunding of the Restaurant Revitalization Act, with a heavy heart, led us to the decision that it is time to conclude our service in West Hollywood. We will be holding our Final Curtain Call for this act this weekend.
The venue was never intended for public sale, but when a group we knew personally approached us, who happened to share the same passion for the community and culture of WeHo, we entertained the idea.    We are excited to see The New Group invest much needed energy into the area
We love and have great belief in the resilience of the West Hollywood community and we would like thank our employees who are the true face of our brand, and our guests who have defined us and continue to support and inspire us.
St. Felix Hollywood remains strong! Throughout the years, we've been an anchor destination for the Hollywood Vinyl District and we've evolved from a Happy Hour hub into a dynamic event-centric hotspot, consistently executing high quality food and cocktails in the heart of Hollywood.
We are excited to announce our partnership with J Dapper Companies in Las Vegas for the Launch of The St Felix – Sin City concept in 2024.
We were hand picked to be the outside X Factor for this project featuring Las Vegas's finest local concepts with a focus and civic support for a thriving small businesses environment.
In gratitude to the incredible West Hollywood community for 15 wonderful years, we're offering a 'Turn Back The Clock' drinks special on our award-winning signature cocktails, available at their original Happy Hour price of $6. This exclusive offer begins Friday and extends to our closing date Sunday, September 3rd. Come have a drink with us, we look forward to raising a glass with you.
Carpe Noctem
---
Adam Lambert, the 'Muffin Man' singer and lead vocalist of 'Queen', is exploring new opportunities to expand his business empire and open a restaurant/bar in West Hollywood's Boystown District. Lambert first gained prominence as the runner-up in Season 8 of American Idol in 2009, and since then has sold over 3 million albums.
In 2019, Lambert founded the 'Feel Something Foundation', a non-profit organization supporting LGBTQ+ and human rights activism.
The current owners of the location Lambert is interested are dealing with a family emergency. They have asked WEHOville to keep the location confidential, but Lambert was spotted on the premises, openly expressing hia enthusiasm about the project.
Lambert's venture would contribute to the growing popularity of gay celebrities in the Santa Monica Boulevard Boystown District. Other notable figures include Lance Bass, a former singer for N'Sync, who is partners in the Rocco's and Heart businesses.
West Hollywood is also home to the Vanderpump crew, including Tom Sandoval and Tom Schwartz, partners in Tom Tom. Lisa Vanderpump and Ken Todd recently closed PUMP but continue to operate PUMP brunch at the Tom Tom location.
Celebrities have made significant inroads into owning many of the cannabis businesses in WeHo. Bill Maher and Woody Harrelson are partners in the Woods, Jay-Z is a partner in CALMA dispensary, and Patricia Arquette is a partner in Fanthom Flower.
This story is still developing, and a formal announcement is expected in the coming weeks.