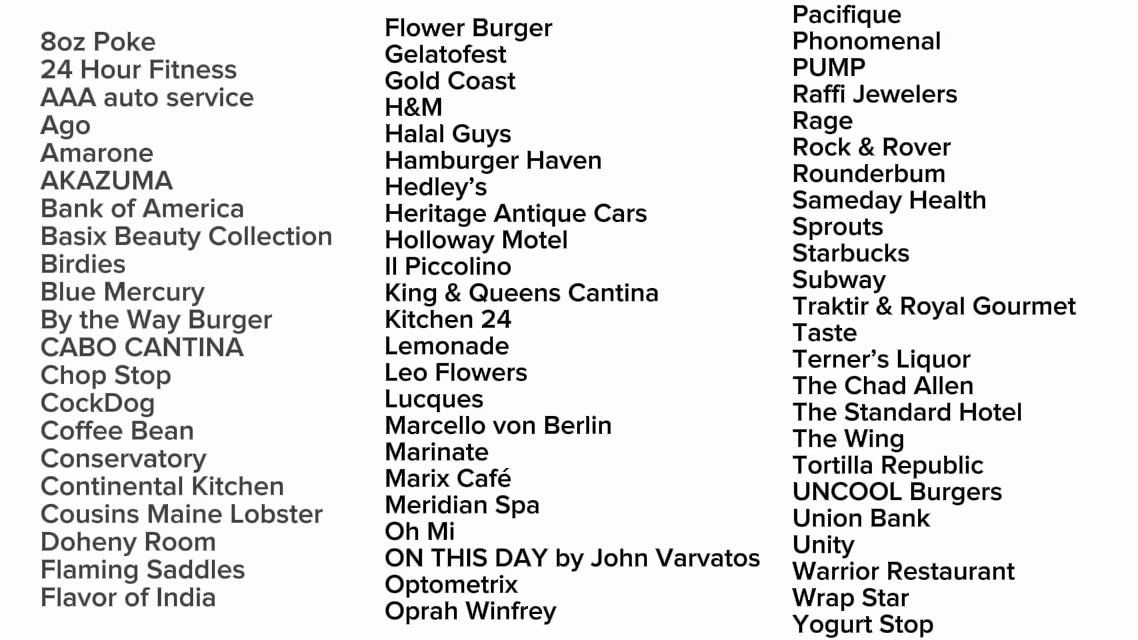 I'm a local business owner. My shop is not as 'labor intensive' as my neighbors who employ many more than my small eleven person staff. I'm proud of my employer record. Zero labor board claims in 14 years. Zero unemployment claims in 14 years. Zero lawsuits. Almost zero people who quit their jobs and I cannot recall any person who was fired. Great employers had no say at the table in the development of the ordinance that affects all workers. Even great employers who are generous and paid their staff well are now challenged with a one size fits all cost that is a job reducer as mandated.
I've never had so many applications for jobs from people who used to work in the area. This worker ordinance is not helping workers. A worker who had 5 shifts and now has 4 cannot pay their rent. One of my part time staff got laid off from their $19.08 per hour at a local restaurant and then got a job in Beverly Hills. He now leaves the city to go to work. The exact opposite of what the council intended.
Some people give birth to children and others, dreamers and entrepreneurs give birth to businesses. Being a parent of a business is not always easy. It takes a Queen Bee to create a hive, but the policies are killing the Queens.
Some of you may laugh at the Supreme Court decision that found corporations to be 'living entities', but they are. Do you know a corporation outlives the life of its owner?
I'm not here to argue with the city council, or many of you as to the cause and effects of the highest minimum wage and benefit package in the nation. The results are around us and you heard the death cries from.. chopstop, starbucks, la boheme, critical state. The rules applied to our small 1.9 square mile city are a giant tax on the residents who are paying increased prices or traveling out of the city for their needs.
Three weeks ago I got a call. "Hello, I'm Anna and my real estate agent told me to call you. We are looking to open our office on Sunset Blvd but then I heard something about this minimum wage ordinance. Can you give me some background?"
I replied, yes, the wage is now $19.08 per hour, I suggest you look on the city website for all the provisions of the ordinance. It includes up to 80 hours vacation time per employee and 96 hours of sick time, plus it will go up every year.
Anna said, my receptionist makes $16 per hour. That's $500 per month extra just for the receptionist. Thank you, I'm going to look for another location.
Again, I'm not here to argue about yesterday. But we can discuss today and tomorrow. We can have the highest in the nation minimum wage but we must address the other issues that are hardships to businesses.
Can we agree on some basic principles.
Our politicians are supposed to represent the best interests of West Hollywood residents and its businesses. Our politicians are elected to represent West Hollywood residents and businesses. Not their donors.
It is a factual statement that $19.08 minimum wage rate is the highest in the entire nation. The minimum wage in New York City is $15 per hour, with phased increases to $17 per hour through 2026. The minimum wage in San Francisco is $18.07 per hour. The minimum wage in unincorporated parts of Los Angeles County is $16.78. The minimum wage in the State of California is $15.50 per hour.
It's really important to note that an employer pays taxes on that wage. 6.2% matching federal tax on $20 per hour is an additional $1.24 per hour to the employer cost. 6% unemployment insurance another $1.20 per hour. There's a long list. The cost is closer to $25 per hour to the employer before adding workman's compensation and other insurance add based on payroll.
There are 4 components to the worker ordinance. We need to stop calling it the minimum wage because that is only part of it. It is the worker ordinance.
a) West Hollywood business owners universally accept $19.08 as the minimum wage. This wage is not to be changed or argued, it's not going away. The few businesses, about a dozen have applied for and received a waiver from the wage. The provisions of the wages are not open for waivers.
The discussion on the worker ordinance does not include lowering the highest in nation minimum wage of $19.08 per hour. Politicians can claim victory. Business owners are digesting this increase.
b) The one component that creates the hurdle for business owners is the PTO. The paid time off has no conditions. In the rest of the world you get a week paid after a year of work. Paid time off or sick pay for hourly workers is not "a thing" in the rest state or country. This link says it all. In West Hollywood we have employees asking to use vacation or sick days after a month of working. Employers are chasing accruals and replacement staff and are burdened with paperwork and work force limitations.
The paid time off as mandated calls for 80 hours per year for full time employees and up to 96 hours sick time. This cost is about $4,000 per head for the minimum wage worker and goes up exponentially. An employee making $75,000 will cost the employer $10,000. An employee making the an income of $130,000 would cost that employer almost $20,000 per head. There are no rules. They put a union proposal on the free market employers. OWN Network left the city, Paramount decided against moving into the Lot, and the law as written is not equitable to the employer. Saban Free Clinic opted to forego free money grants rather than be tied to this item.
Solution 1: However paid time off is adopted it should be earned after the first year of employment. A person who works 6 weeks should not be receiving accrued vacation time. Many employees are transient too, gig workers, and one employee dancing around can cause more than one employer time and cost to follow.
Solution 2: Keep West Hollywood competitive with our neighbors and follow the state rules.
In addition, not all workers are union workers who get the schedules handed to them. Many small businesses and many of our local business allow employees to select their own shifts online. In these cases an employee can just select a bunch of shifts and then cancel to collect sick days. Technology that works for the employees to give them flexibility are hampered by mandatory paid sick days for hourly workers.
c) Hospitality tip credit – the ordinance does not allow the employer to count tips as wages, yet the employer has to pay the credit card fees and the taxes on those tips. West Hollywood carved out a 'living wage ordinance' for city contractors, and then a 'hotel worker ordinance' for hotel workers, but it refuses to discuss a 'hospitality wage ordinance' for our city's largest industry. A restaurant in West Hollywood is forced to absorb $5 or more per hour for their servers than Beverly Hills. That's why you're seeing surcharges on tabs at West Hollywood restaurants that do not appear in Beverly Hills, or Los Angeles.
Solution: Let's compromise, carve out a tip credit for hospitality workers and do not allow surcharges on restaurant receipts. Everybody wins. Employees will get all their tips and not have to explain surcharges. Residents who dine locally, and tourists who come from all over will not have to see these surcharges on the receipts. We can reduce local inflation. There is a cost to our reputation that is intangible, we must address this.
d) CPI increase – the ordinance does something that has never been mandated by any municipality anywhere. The ordinance forces annual increases to the minimum wage. This is not 'a thing' anywhere in the world. It is a thing for for federal employees, and union workers who are not individually rewarded. The problems we have will get worse if they continue to push the minimum wage higher every single year. Businesses need stability. The community needs a break to digest the increases already implemented as well as other economic realities. It's real important that we can agree to postpone increases to the minimum wage until 2025 so that businesses get a chance to digest and absorb the new market conditions.
These are the pillars of discussion we need to address and find common ground. If we do not address these issues you will see more anger and frustration from business owners faced with the decision to close or renew their leases.
Any single council member can place an item on the agenda. Sepi ran on a platform to help small business. Chelsea speaks of her family as 'small business owners' Keeping West Hollywood competitive keeps our businesses healthy. We can't afford more vacant storefronts. Our city is at stake. Let's fine tune the ordinance and keep the highest minimum wage in the nation and address the other components that need to be fine tuned. We can do this. Let's do it together.