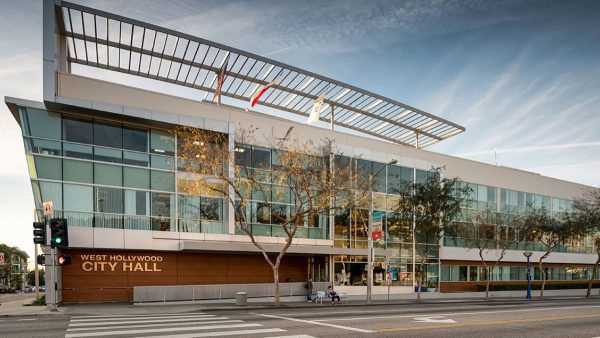 All of the top 100 highest-paid municipal employees in West Hollywood pulled in more than $100,000 a year in 2022 according to transparentcalifornia.com.
City Manager David Wilson topped the list with a salary and benefits total of $476,414 per year. All 10 department directors, along with most of the managers, each pulled in more than $300K annually.
Of the five City Councilmembers, Councilmember John Erickson and then-Mayor Pro Tem Sepi Shyne cashed in the most, with $45,562 and $45,561 earned respectively. 
Employee Name
Job Title
Base Pay
Other Pay
Benefits
Total Pay
Total Pay & Benefits
David Wilson
City Manager
$305,298.00
$44,348.00
$126,768.00
$349,646.00
$476,414.00
David Giugni
Social Services Manager
$179,219.40
$207,605.00
$69,589.00
$386,824.40
$456,413.40
Oscar Delgado
Assistant City Manager
$306,552.00
$28,301.00
$113,036.00
$334,853.00
$447,889.00
Kristin Cook
Director Of Public Safety
$95,181.00
$298,754.00
$34,804.00
$393,935.00
$428,739.00
Jonathan Leonard
Director Of Economic Development
$224,296.00
$100,042.00
$70,199.00
$324,338.00
$394,537.00
Jacqueline Rocco
Deputy City Manager
$262,286.00
$17,156.00
$94,743.00
$279,442.00
$374,185.00
Steve Campbell
Director Of Public Works
$256,505.00
$15,695.00
$99,946.00
$272,200.00
$372,146.00
Lorena Quijano
Director Of Finance & Technology Services
$248,682.00
$35,497.00
$87,445.00
$284,179.00
$371,624.00
Daniel Rivas
Director Of Community Safety
$215,094.00
$61,413.00
$85,741.00
$276,507.00
$362,248.00
John Keho
Director Of Planning & Development Services
$253,776.00
$11,845.00
$91,228.00
$265,621.00
$356,849.00
Yvonne Quarker
Director Of Community Services
$248,010.00
$12,224.00
$90,986.00
$260,234.00
$351,220.00
Cleo Smith
Event Services Manager
$206,388.00
$50,479.00
$80,477.00
$256,867.00
$337,344.00
Christof Schroeder
Director Of Human Services & Rent Stabilization
$251,000.00
$5,229.00
$80,186.00
$256,229.00
$336,415.00
Carlos Corrales
Accounting Manager
$209,071.00
$37,588.00
$82,946.00
$246,659.00
$329,605.00
Joshua Schare
Director Of Communications
$216,671.00
$39,363.00
$64,183.00
$256,034.00
$320,217.00
Yevgeniy Tsipis
Information Technology Manager
$212,879.00
$19,379.00
$87,426.00
$232,258.00
$319,684.00
Janet Jimenez
Director Of Administrative Services
$219,174.00
$29,224.00
$70,623.00
$248,398.00
$319,021.00
Corri Planck
Strategic Initiatives Manager
$209,835.00
$23,219.00
$81,531.00
$233,054.00
$314,585.00
Jennifer Alkire
Planning Manager
$202,697.00
$23,503.00
$84,895.00
$226,200.00
$311,095.00
Helen Collins
Facilities And Field Services Manager
$200,978.70
$29,374.00
$75,991.00
$230,352.70
$306,343.70
Francisco Contreras
Planning Manager
$211,700.00
$24,491.00
$69,442.00
$236,191.00
$305,633.00
Brian League
Property Development Manager
$210,051.00
$13,990.00
$79,271.00
$224,041.00
$303,312.00
Vincent Guarino
Parking Operations Manager
$206,626.00
$27,194.00
$69,195.00
$233,820.00
$303,015.00
Benjamin Galan Jr.
Building & Safety Manager/Building Official
$199,031.80
$24,704.00
$78,107.00
$223,735.80
$301,842.80
Jonathan Holub
Rent Stabilization & Housing Manager
$194,761.00
$20,852.00
$82,809.00
$215,613.00
$298,422.00
Stephanie Martinez
Recreation Services Manager
$198,719.00
$10,948.00
$80,943.00
$209,667.00
$290,610.00
Susan Schumacher
Human Resources Manager
$208,845.00
$7,222.00
$69,567.00
$216,067.00
$285,634.00
Aniceta Ruiz
Revenue Manager
$185,559.00
$13,352.00
$73,118.00
$198,911.00
$272,029.00
Richard Abramson
Urban Design & Architecture Studio Manager
$201,257.00
$8,447.00
$61,825.00
$209,704.00
$271,529.00
Rebecca Ehemann
Arts Manager
$179,374.00
$7,022.00
$76,394.00
$186,396.00
$262,790.00
John Gilmour
Engineering Manager/City Engineer
$157,291.00
$18,977.00
$74,372.00
$176,268.00
$250,640.00
Melissa Crowder
City Clerk
$168,776.00
$9,228.00
$66,675.00
$178,004.00
$244,679.00
Richard Garland
Principal Traffic Engineer
$163,017.00
$11,546.00
$67,219.00
$174,563.00
$241,782.00
Andrea Lovano
Community & Legislative Affairs Manager
$165,498.00
$6,883.00
$69,329.00
$172,381.00
$241,710.00
Raymond Nunez
Senior Maintenance Technician
$90,833.31
$100,048.69
$49,389.00
$191,012.00
$240,401.00
Clarinda Bareng
Senior Accountant
$146,736.00
$28,117.00
$64,665.00
$174,853.00
$239,518.00
Hernan Molina
Governmental Affairs Liaison
$153,284.00
$23,868.00
$61,785.00
$177,152.00
$238,937.00
Garen Yolles
Architectural & Urban Designer
$153,730.00
$11,436.00
$71,415.00
$165,166.00
$236,581.00
Christine Safriet
Assistant To The City Manager
$153,582.00
$14,020.00
$68,489.00
$167,602.00
$236,091.00
Leslie Isenberg
Social Services Supervisor
$146,154.00
$17,092.00
$70,091.00
$163,246.00
$233,337.00
Rony Fozoonmehr
Systems Engineer Supervisor
$153,701.00
$3,926.00
$73,564.00
$157,627.00
$231,191.00
Claudia Duncan
Senior Financial Management Analyst
$143,751.00
$16,547.00
$69,509.00
$160,298.00
$229,807.00
Kevin Trudeau
Facilities & Landscape Maintenance Superintendent
$147,268.00
$15,970.00
$65,853.00
$163,238.00
$229,091.00
Bobby Cheung
Senior Transportation Planner
$155,684.00
$20,309.00
$52,709.00
$175,993.00
$228,702.00
Paul Hertz
Facilities & Landscape Maintenance Superintendent
$148,284.00
$27,934.00
$51,727.00
$176,218.00
$227,945.00
Emily Evans
Systems Engineer
$144,548.00
$17,683.00
$65,144.00
$162,231.00
$227,375.00
Brett White
Digital Media Manager
$124,253.00
$47,744.00
$55,276.00
$171,997.00
$227,273.00
Clavon Jubrey
Recreation Supervisor
$133,983.00
$29,509.00
$63,477.00
$163,492.00
$226,969.00
Mila Sologub
Project Manager
$147,240.80
$16,788.00
$62,591.00
$164,028.80
$226,619.80
Minh Douglas Vu
Senior Planner
$155,101.00
$18,822.00
$51,995.00
$173,923.00
$225,918.00
Antonio Castillo
Senior Planner
$155,685.32
$16,519.00
$52,451.00
$172,204.32
$224,655.32
Cynthia Zabala
Senior Plan Check Engineer
$145,259.00
$4,893.00
$69,847.00
$150,152.00
$219,999.00
Robert Badmagharian
Senior Plan Check Engineer
$145,418.00
$7,142.00
$62,863.00
$152,560.00
$215,423.00
Phillip Brandenburg
Senior Combination Building Inspector
$126,063.00
$12,856.00
$56,866.00
$158,052.00
$214,918.00
Yessica Benitez
Code Enforcement Supervisor
$135,574.00
$15,165.00
$62,867.00
$150,739.00
$213,606.00
Davie Gonzalez
Project Coordinator
$136,763.00
$19,481.00
$56,949.00
$156,244.00
$213,193.00
Megan Reath
Event Services Supervisor
$145,519.00
$11,475.00
$55,799.00
$156,994.00
$212,793.00
Lacarlos Jordan
Aquatics Supervisor
$133,036.00
$21,303.00
$57,233.00
$154,339.00
$211,572.00
William Bortfeld
Parking Services And Projects Officer
$134,446.00
$13,733.00
$62,255.00
$148,179.00
$210,434.00
Brian Jackson
Street Maintenance Supervisor
$124,934.00
$13,710.00
$61,519.00
$148,845.00
$210,364.00
Lisa Nolan
Building Maintenance Supervisor
$125,709.00
$7,872.00
$57,063.00
$153,239.00
$210,302.00
Darrin Smith
Facilities & Landscape Maintenance Superintendent
$140,614.00
$4,416.00
$65,136.00
$145,030.00
$210,166.00
Erin Hamant
Senior Administrative Analyst (Facilities & Field Services)
$144,108.00
$15,372.00
$50,669.00
$159,480.00
$210,149.00
Favio Gallo
Associate Planner
$137,147.00
$23,269.00
$48,903.00
$160,416.00
$209,319.00
Elizabeth Rosen
Information Technology Management Analyst
$131,160.00
$18,039.00
$59,790.00
$149,199.00
$208,989.00
Joan Mithers
Social Services Program Administrator
$125,742.00
$31,048.00
$51,730.00
$156,790.00
$208,520.00
Daniel Mick
Code Enforcement Supervisor
$96,746.00
$61,792.00
$49,741.00
$158,538.00
$208,279.00
Bethany Smith
Event Services Coordinator
$137,161.00
$10,966.00
$59,784.00
$148,127.00
$207,911.00
Diane Kahn
Strategic Initiatives Program Administrator
$137,147.00
$3,477.00
$67,093.00
$140,624.00
$207,717.00
Dereck Purificacion
Associate Planner
$134,467.00
$5,904.00
$66,682.00
$140,371.00
$207,053.00
Coby Wagman
Parking Operations Supervisor
$129,819.00
$10,315.00
$66,598.00
$140,134.00
$206,732.00
Jesus Heredia
Event Services Coordinator
$131,643.00
$7,178.00
$66,635.00
$138,821.00
$205,456.00
Elizabeth Anne Anderson
Strategic Initiatives Program Administrator
$131,429.00
$9,911.00
$64,039.00
$141,340.00
$205,379.00
Eric Millsap
Transportation Engineering Technician
$116,550.00
$39,597.00
$44,129.00
$160,343.00
$204,472.00
Long Thu
Assistant Engineer (Civil)
$137,071.00
$4,118.00
$62,255.00
$141,189.00
$203,444.00
Tatyana Rodzinek
Russian Community Programs Coordinator
$133,686.00
$9,025.00
$60,258.00
$142,711.00
$202,969.00
Sheri Ann Lunn
Public Information Officer
$147,269.00
$5,394.00
$49,948.00
$152,663.00
$202,611.00
Jesse Lawson
Catv Supervisor
$126,400.00
$14,223.00
$61,305.00
$140,623.00
$201,928.00
Kent Egenberger
Catv Supervisor
$148,268.00
$11,663.00
$41,900.00
$159,931.00
$201,831.00
Shakiri Stephens
Accountant
$109,414.00
$30,104.00
$60,171.00
$139,518.00
$199,689.00
Francisco Gomez
Transportation Program Administrator
$137,160.00
$24,265.00
$37,987.00
$161,425.00
$199,412.00
Jason Cosylion
Code Enforcement Officer
$109,590.00
$24,248.00
$57,517.00
$141,886.00
$199,403.00
Alicen Bartle
Project Development Administrator
$129,296.00
$3,355.00
$66,735.00
$132,651.00
$199,386.00
Jeffrey Jones
Senior Code Enforcement Officer
$119,404.00
$16,707.00
$59,950.00
$138,561.00
$198,511.00
Marie Clarice Kokubun
Human Resources Analyst
$131,835.00
$5,053.00
$61,465.00
$136,888.00
$198,353.00
Robert Sasek
Senior Video Production Specialist
$126,101.00
$27,168.00
$44,118.00
$153,269.00
$197,387.00
Laurie Yelton
Associate Planner
$134,237.80
$11,818.00
$50,563.00
$146,055.80
$196,618.80
Deryck Santos
Systems Engineer
$144,657.00
$2,625.00
$49,007.00
$147,282.00
$196,289.00
Michael Che
Arts Coordinator
$137,161.00
$13,408.00
$43,937.00
$150,569.00
$194,506.00
Cienna Leung
Human Resources Supervisor
$138,298.00
$6,600.00
$49,278.00
$144,898.00
$194,176.00
Angel Chiriboga
Accounting Coordinator
$123,721.00
$10,438.00
$59,911.00
$134,159.00
$194,070.00
Eugene Alper
Senior Code Enforcement Officer
$119,422.00
$10,475.00
$53,107.00
$140,798.00
$193,905.00
Laura Powell Schoonover
Administrative Analyst
$133,182.00
$6,563.00
$53,375.00
$139,745.00
$193,120.00
Connie Khoan
Application Developer
$126,032.00
$8,970.00
$57,741.00
$135,002.00
$192,743.00
Linda Granados
Compensation & Benefits Analyst
$131,157.00
$13,796.00
$47,023.00
$144,953.00
$191,976.00
Margarita Kustanovich
Emergency Management Coordinator
$113,272.00
$15,146.00
$63,156.00
$128,418.00
$191,574.00
David Fenn
Senior Planner
$135,916.00
$8,664.00
$46,715.00
$144,580.00
$191,295.00
Rocio Martinez
Records Management Officer
$118,026.00
$7,232.00
$65,870.00
$125,258.00
$191,128.00
Aileen Ward
Risk Management Officer
$116,604.00
$10,573.00
$61,764.00
$127,177.00
$188,941.00
Derek Murray
Social Services Program Administrator
$136,662.00
$4,899.00
$46,894.00
$141,561.00
$188,455.00
Baback Safikhani
Administrative Analyst
$134,626.00
$4,686.00
$48,746.00
$139,312.00
$188,058.00
Matthew Magener
Environmental Programs Coordinator
$137,146.00
$2,152.00
$48,746.00
$139,298.00
$188,044.00
Joseph Heredia
Building & Safety Permit Technician
$102,869.00
$16,583.00
$54,848.00
$133,195.00
$188,043.00
Johnny Willis
Lead Maintenance Technician
$107,360.00
$14,475.00
$46,834.00
$140,818.00
$187,652.00
Gloria Aviles
Rent Stabilization & Housing Information Coordinator
$120,775.00
$8,188.00
$57,488.00
$128,963.00
$186,451.00
Larissa Fooks
Community Programs Coordinator
$125,674.00
$13,939.00
$46,327.00
$139,613.00
$185,940.00
Roger Rath
Associate Planner
$126,003.80
$2,113.00
$57,492.00
$128,116.80
$185,608.80
Susana Salazar
Recreation Coordinator
$118,099.00
$9,775.00
$51,828.00
$133,665.00
$185,493.00
Jasmine Duckworth
Community Programs Coordinator
$132,779.00
$3,568.00
$48,076.00
$136,347.00
$184,423.00
Eva Angeloff
Grants Coordinator
$119,416.00
$2,592.00
$61,201.00
$122,008.00
$183,209.00
Eddie Robinson
Film Coordinator
$120,859.00
$21,660.00
$35,526.00
$147,209.00
$182,735.00
Adriana Lopez Borge
Rent Stabilization & Housing Information Coordinator
$123,488.00
$4,679.00
$54,209.00
$128,167.00
$182,376.00
Michael Gasca
Recreation Supervisor
$120,257.00
$15,414.00
$44,314.00
$137,941.00
$182,255.00
Mary Paige Portwood
Associate Planner
$109,651.00
$20,420.00
$52,013.00
$130,071.00
$182,084.00
Saul Portillo
Parking Analyst
$123,720.00
$5,313.00
$52,804.00
$129,033.00
$181,837.00
Kathryn Egan
Social Services Program Administrator
$123,757.00
$1,381.00
$56,358.00
$125,138.00
$181,496.00
Yvette Sotelo
Public Access Coordinator
$122,031.00
$2,064.00
$56,395.00
$124,372.00
$180,767.00
Erik Andrews
Lead Maintenance Technician
$110,751.00
$8,336.00
$59,982.00
$119,499.00
$179,481.00
Tjader France
Lead Maintenance Technician
$109,202.00
$9,257.00
$50,955.00
$128,212.00
$179,167.00
Eduardo Espinoza
Code Enforcement Officer
$110,959.00
$4,942.00
$57,803.00
$121,044.00
$178,847.00
Ha Lu
Human Resources Analyst
$126,187.00
$4,274.00
$47,061.00
$130,461.00
$177,522.00
Eric Scott Barela
Code Enforcement Officer
$104,712.00
$6,742.00
$55,226.00
$122,279.00
$177,505.00
Yellena Orloff
Rent Stabilization & Housing Information Coordinator
$126,043.00
$4,814.00
$46,299.00
$130,857.00
$177,156.00
Anwar Zraikat
Rent Stabilization & Housing Information Coordinator
$126,043.00
$6,881.00
$44,228.00
$132,924.00
$177,152.00
Yazmin Spiteri
Rent Stabilization & Housing Information Coordinator
$121,220.00
$3,206.00
$51,538.00
$124,426.00
$175,964.00
Angelica Maria Bernal
Building & Safety Permit Technician
$99,333.75
$11,455.00
$57,028.00
$118,693.75
$175,721.75
Paolo Kespradit
Management Analyst
$117,140.00
$11,833.00
$44,916.00
$128,973.00
$173,889.00
Dana Alhaddad
Recreation Coordinator
$104,870.00
$9,398.00
$56,029.00
$117,743.00
$173,772.00
Walter Davis
Traffic Managment Program Specialist
$115,860.00
$13,223.00
$44,182.00
$129,172.00
$173,354.00
Sergio Larin
Information Technology Systems Analyst
$110,751.00
$6,382.00
$56,002.00
$117,133.00
$173,135.00
Mario Mendez
Senior Maintenance Technician
$90,900.00
$16,212.00
$54,659.00
$117,484.00
$172,143.00
Rhina del Real
Parking Coordinator
$108,004.00
$5,074.00
$55,591.00
$115,468.00
$171,059.00
Dominic Gray
Administrative Coordinator
$123,721.00
$2,067.00
$45,215.00
$125,788.00
$171,003.00
Jenny Ivanova
Strategic Initiatives Specialist
$111,428.00
$7,554.00
$43,735.00
$126,397.00
$170,132.00
Kerry McCormack
Event Services Coordinator
$122,863.00
$800.00
$44,997.00
$123,663.00
$168,660.00
Andres Briseno
Lead Maintenance Technician
$86,915.00
$10,345.00
$49,356.00
$117,427.00
$166,783.00
Katherine Nguyen
Accounting/Finance Specialist
$102,868.00
$11,536.00
$40,430.00
$126,334.00
$166,764.00
Laura D'Ambrosia
Administrative Specialist Iv
$102,892.00
$7,325.00
$55,223.00
$110,702.00
$165,925.00
Jacob Simpson
Digital Media Officer
$103,065.00
$3,413.00
$40,380.00
$123,976.00
$164,356.00
Raul santa Cruz Jimenez
Senior Maintenance Technician
$77,943.00
$10,784.00
$49,252.00
$114,479.00
$163,731.00
David Gillig
Administrative Specialist Iv
$100,470.00
$15,653.00
$39,913.00
$123,490.00
$163,403.00
Celeste Barrino
Administrative Specialist Iv
$99,746.00
$13,692.00
$48,762.00
$113,803.00
$162,565.00
Martin Garibay
Senior Maintenance Technician
$90,428.00
$17,308.00
$44,273.00
$117,229.00
$161,502.00
Norma Coronado
Accountant
$107,255.00
$5,583.00
$46,684.00
$112,838.00
$159,522.00
Robert Childrey
Senior Maintenance Technician
$90,815.00
$7,600.00
$34,318.00
$124,813.00
$159,131.00
Jorge Reynoso
Senior Maintenance Technician
$90,089.00
$9,388.00
$44,341.00
$113,650.00
$157,991.00
Ashley Kasuyama
Associate Plan Check Engineer
$119,046.00
$807.00
$38,031.00
$119,853.00
$157,884.00
Falyn Kingi
Administrative Specialist Iv
$95,346.00
$3,430.00
$57,939.00
$99,781.00
$157,720.00
Moya Marquez
Community Programs Coordinator
$109,324.00
$6,303.00
$41,568.00
$115,627.00
$157,195.00
Yulia Zhosan
Senior Administrative Specialist
$90,115.00
$11,736.00
$54,959.00
$101,851.00
$156,810.00
Alyssa Poblador
Administrative Specialist Iv
$106,449.00
$8,271.00
$39,895.00
$116,774.00
$156,669.00
Michelle Nemetz
Accounting/Finance Specialist
$94,352.00
$11,989.00
$39,124.00
$117,241.00
$156,365.00
Brandon Lawrence
Staff Attorney
$113,002.00
$1,235.00
$38,834.00
$114,237.00
$153,071.00
Joe Torres
Code Enforcement Officer
$99,424.00
$3,957.00
$44,668.00
$107,401.00
$152,069.00
Robert Romero
Human Resources Administrative Specialist
$97,056.00
$15,773.00
$38,327.00
$112,829.00
$151,156.00
Eric Fountain
Legal Services Analyst
$110,670.00
$757.00
$39,363.00
$111,427.00
$150,790.00
Eric Matikosh
Administrative Specialist Iv
$102,859.00
$8,024.00
$39,728.00
$110,883.00
$150,611.00
Roger Vinalon Jr.
Senior Administrative Specialist
$100,870.00
$1,961.00
$39,273.00
$109,780.00
$149,053.00
Deeana Saunders
Social Services Specialist
$106,686.00
$2,748.00
$39,075.00
$109,434.00
$148,509.00
Danielle Tribble
Arts Specialist
$91,269.00
$5,344.00
$48,609.00
$99,797.00
$148,406.00
Duane Cobb
Human Resources Specialist
$92,678.00
$10,252.00
$44,595.00
$103,278.00
$147,873.00
Elisa Lopez
Code Enforcement Officer
$103,574.00
$1,596.00
$38,259.00
$108,559.00
$146,818.00
William Galindo
Senior Maintenance Technician
$90,040.00
$8,177.00
$35,008.00
$111,798.00
$146,806.00
Marina Rhodes
Recreation Supervisor
$102,112.00
$12,999.00
$31,519.00
$115,111.00
$146,630.00
Ana Hernandez
Code Enforcement Specialist
$93,850.00
$5,932.00
$35,990.00
$108,682.00
$144,672.00
Pj Ryan MacAlalad
Information Technology Systems Analyst
$91,637.00
$3,102.00
$49,442.00
$94,739.00
$144,181.00
Sharon Jackson
Administrative Specialist Iv
$100,506.00
$3,879.00
$39,741.00
$104,385.00
$144,126.00
Elizabeth Theriac
Administrative Specialist Iv
$100,787.00
$2,160.00
$39,729.00
$104,233.00
$143,962.00
Veronica Guzman
Permit Services Specialist
$89,815.00
$9,666.00
$43,052.00
$99,481.00
$142,533.00
Kevin Devine
Administrative Specialist Iv
$102,127.00
$9,628.00
$29,646.00
$112,310.00
$141,956.00
Andre Fields
Building & Safety Permit Technician
$90,383.00
$6,939.00
$44,360.00
$97,358.00
$141,718.00
Murray Armstrong
Senior Combination Building Inspector
$93,243.00
$5,464.00
$37,944.00
$102,444.00
$140,388.00
Danny Casillas
Administrative Specialist Iii
$90,815.00
$10,011.00
$36,763.00
$102,338.00
$139,101.00
Natalie Acosta
Human Resources Specialist
$95,725.00
$3,972.00
$37,733.00
$101,349.00
$139,082.00
Catherine Ross
Deputy Clerk
$73,309.00
$12,942.00
$52,426.00
$86,251.00
$138,677.00
Tara Worden
Business Development Analyst
$87,083.96
$1,340.00
$49,595.00
$88,423.96
$138,018.96
Jessica Osinachi Anukam
Public Safety Specialist
$92,749.00
$1,075.00
$37,073.00
$99,350.00
$136,423.00
Manuel Gallegos
Code Enforcement Technician
$89,101.00
$2,651.00
$43,705.00
$92,658.00
$136,363.00
Tamara Ceja
Permit Services Specialist
$81,274.00
$6,536.00
$47,567.00
$88,152.00
$135,719.00
Nina Tolchinski
Transportation And Transit Operations Technician
$91,394.00
$8,871.00
$33,767.00
$100,265.00
$134,032.00
Sharita Houston
Administrative Specialist Iii
$88,785.00
$8,617.00
$34,882.00
$98,882.00
$133,764.00
Dennice Oceguera
Administrative Specialist Iv
$80,061.00
$3,465.00
$43,144.00
$83,656.00
$126,800.00
Kimberly Hubbard
Aquatics Coordinator
$80,701.00
$7,344.00
$31,477.00
$94,920.00
$126,397.00
Victor Garibay
Senior Lifeguard
$85,810.00
$3,566.00
$33,887.00
$89,502.00
$123,389.00
Cesar Romero
Senior Lifeguard
$84,746.00
$3,073.00
$33,780.00
$89,147.00
$122,927.00
Douglas Nguyen
Transportation Program Administrator
$80,832.00
$897.00
$41,066.00
$81,729.00
$122,795.00
Cheri Armstrong
Senior Lifeguard
$85,743.00
$1,198.00
$33,816.00
$88,309.00
$122,125.00
Gabriele Gonzales
Administrative Specialist Ii
$74,988.00
$7,281.00
$33,807.00
$85,987.00
$119,794.00
Rachel Dimond
Senior Planner
$68,040.00
$18,425.00
$31,912.00
$86,465.00
$118,377.00
Joshua Seidlitz
Senior Lifeguard
$81,206.00
$2,749.00
$32,330.00
$85,188.00
$117,518.00
Kathryn Kigongo
Senior Innovation Analyst
$82,365.00
$1,890.00
$33,182.00
$84,255.00
$117,437.00
Sarah Hernandez
Accountant
$79,517.00
$4,094.00
$31,883.00
$83,611.00
$115,494.00
Diane Garcia
Administrative Specialist Iv
$75,420.00
$3,130.00
$32,730.00
$80,679.00
$113,409.00
Austin Hart
Senior Maintenance Technician
$73,319.00
$1,161.00
$32,518.00
$79,303.00
$111,821.00
Amy Valdepena
Administrative Specialist Iv
$74,293.00
$2,769.00
$33,185.00
$77,309.00
$110,494.00
Gurdeep Kaur
Assistant Planner
$60,820.00
$25,640.00
$23,091.00
$86,460.00
$109,551.00
Andrea Yanez
Recreation Coordinator
$72,033.00
$4,603.00
$30,305.00
$78,672.00
$108,977.00
Daniel Molina
Administrative Specialist Ii
$62,747.00
$5,832.00
$39,827.00
$68,775.00
$108,602.00
Paul Contessa Jr.
Administrative Specialist I
$63,770.00
$3,704.00
$40,483.00
$67,474.00
$107,957.00
Samuel Estrada
Urban Forest & Landscape Maintenance Supervisor
$66,984.00
$1,475.00
$36,373.00
$70,747.00
$107,120.00
Florencia Moreno
Lifeguard
$56,348.00
$6,994.00
$41,527.00
$63,660.00
$105,187.00
Taylor Coyne
Business Development Manager
$69,253.00
$465.00
$32,563.00
$69,718.00
$102,281.00
Joyce Britton
Administrative Specialist Iv
$67,521.00
$1,484.00
$28,053.00
$72,485.00
$100,538.00
Natalie Mignon
Recreation Leader Ii
$64,013.00
$7,605.00
$28,115.00
$71,837.00
$99,952.00
Kristijana Oravec
Administrative Specialist Iii
$52,718.00
$1,240.00
$45,043.00
$54,118.00
$99,161.00
Guillermina Hernandez
Administrative Specialist Iii
$60,402.00
$6,983.00
$28,085.00
$67,408.00
$95,493.00
George Lopez
Temporary Code Enforcement Officer
$58,554.00
$0.00
$32,502.00
$59,265.00
$91,767.00
Andy Torres
Code Enforcement Officer
$62,601.00
$5,501.00
$17,630.00
$73,787.00
$91,417.00
Destiny Nieto
Recreation Coordinator
$50,792.00
$2,597.00
$33,680.00
$56,269.00
$89,949.00
Jose Rodriguez
Temporary Permit Services Specialist
$61,498.00
$0.00
$25,631.00
$62,021.00
$87,652.00
Robyn Eason
Planning Manager
$67,923.00
$907.00
$18,456.00
$68,830.00
$87,286.00
Alborz Basiratmand
Senior Lifeguard
$55,721.00
$1,873.00
$25,610.00
$57,594.00
$83,204.00
Christopher Vazquez
Permit Services Specialist
$50,217.00
$5,885.00
$24,914.00
$56,903.00
$81,817.00
Christina Sarkees
Project Architect
$22,045.00
$47,879.00
$9,622.00
$69,924.00
$79,546.00
Samuel Smith IV
Recreation Leader I
$49,090.00
$2,768.00
$24,008.00
$52,461.00
$76,469.00
Cecilia Arvizu
Recreation Leader I
$34,938.00
$2,846.00
$36,585.00
$37,784.00
$74,369.00
William Pollard
Engineering Manager/City Engineer
$46,846.00
$7,485.00
$19,344.00
$54,331.00
$73,675.00
Maria Salgado
Recreation Leader I
$46,656.00
$2,473.00
$23,962.00
$49,588.00
$73,550.00
Aldin Bill Enriquez
Recreation Leader I
$47,696.00
$1,772.00
$23,604.00
$49,743.00
$73,347.00
Dyanna Wilson
Recreation Leader I
$42,501.00
$7,057.00
$22,124.00
$49,880.00
$72,004.00
Nubia MacIas
Recreation Coordinator
$44,941.00
$7,651.00
$17,443.00
$53,105.00
$70,548.00
Michael Barker
Project Architect
$44,829.00
$897.00
$23,748.00
$45,726.00
$69,474.00
Michelle Liberman
Professional Support Services Specialist
$27,509.80
$3,506.00
$30,462.00
$31,015.80
$61,477.80
Anne McIntosh
Annuitant – Planning Manager
$59,865.00
$0.00
$0.00
$59,865.00
$59,865.00
Jennifer del Toro
Community & Legislative Affairs Supervisor
$36,464.00
$2,575.00
$18,286.00
$39,039.00
$57,325.00
Johnny Cortez Jr.
Senior Maintenance Technician
$31,308.00
$1,335.00
$20,847.00
$34,068.00
$54,915.00
Lucinda Alvarez
Recreation Leader I
$33,834.00
$1,348.00
$17,947.00
$35,301.00
$53,248.00
Randy Fiandach Jr.
Professional Support Services Specialist
$36,475.00
$477.00
$15,197.00
$37,343.00
$52,540.00
Janene Sherrard
Temporary Administrative Specialist Iv
$37,015.00
$457.00
$14,096.00
$38,061.00
$52,157.00
Korina Arvizu
Assistant Planner
$38,120.00
$2,432.00
$11,066.00
$40,782.00
$51,848.00
John Farren
Recreation Leader I
$29,950.00
$1,982.00
$18,964.00
$31,932.00
$50,896.00
Quentin Casalenuovo
Senior Lifeguard
$38,460.00
$882.00
$10,971.00
$39,764.00
$50,735.00
Laura del Cid
Professional Support Services Specialist
$35,425.00
$444.00
$14,426.00
$35,869.00
$50,295.00
Todd Gish
Temp Architectural And Urban Designer
$49,810.00
$0.00
$0.00
$49,810.00
$49,810.00
Bryan Eck
Senior Planner
$17,301.00
$21,651.00
$9,639.00
$38,952.00
$48,591.00
Ryan Carr
Assistant Planner
$32,223.98
$323.00
$14,899.00
$32,546.98
$47,445.98
Felicia Enriquez
Temporary Administrative Specialist Iv
$29,896.00
$0.00
$15,753.00
$29,896.00
$45,649.00
John Erickson
Councilmember
$17,064.00
$1,800.00
$26,698.00
$18,864.00
$45,562.00
Sepideh Shyne
Councilmember
$17,064.00
$1,800.00
$26,697.00
$18,864.00
$45,561.00
Shane Kalminski
Recreation Leader I
$26,828.00
$1,725.00
$15,167.00
$28,553.00
$43,720.00
David Michael de Guzman
Recreation Leader I
$24,392.00
$1,526.00
$16,738.00
$25,918.00
$42,656.00
Kyle Bolender
Building Maintenance Engineer
$25,188.00
$2,951.00
$11,527.00
$28,799.00
$40,326.00
Debora Gonzalez
Administrative Coordinator
$17,653.00
$1,198.00
$17,126.00
$18,851.00
$35,977.00
Marlo Lussier
Lifeguard (Part-Time Temporary)
$29,866.00
$0.00
$0.00
$34,558.00
$34,558.00
Lauren Meister
Mayor
$17,064.00
$1,826.00
$15,662.00
$18,890.00
$34,552.00
John D'Amico
Councilmember
$17,064.00
$7,800.00
$5,808.00
$24,864.00
$30,672.00
Lindsey Horvath
Councilmember
$14,273.00
$1,750.00
$14,321.00
$16,023.00
$30,344.00
Arseniy Silaev
Lifeguard (Part-Time Temporary)
$28,173.00
$0.00
$0.00
$28,752.00
$28,752.00
Jaiden France
Recreation Leader I
$18,296.00
$730.00
$8,748.00
$19,334.00
$28,082.00
Gilberto Sotelo
Lifeguard (Part-Time Temporary)
$20,483.00
$0.00
$5,150.00
$20,483.00
$25,633.00
Hila Dayan
Lifeguard (Part-Time Temporary)
$23,912.00
$0.00
$0.00
$24,605.00
$24,605.00
Haylee Nelson
Temporary Recreation Leader I (Part-Time Hourly)
$21,970.00
$0.00
$0.00
$21,970.00
$21,970.00
Kevin Willis
Senior Maintenance Technician
$10,617.00
$213.00
$6,717.00
$14,937.00
$21,654.00
Raquel Eva Hardy-Planck
Lifeguard (Part-Time Temporary)
$21,049.00
$0.00
$0.00
$21,166.00
$21,166.00
Ariel Sharaf
Temporary Recreation Leader I (Part-Time Hourly)
$20,412.00
$0.00
$0.00
$20,621.00
$20,621.00
Tracy Cervantes
Lifeguard (Part-Time Temporary)
$16,258.00
$0.00
$4,193.00
$16,358.00
$20,551.00
Mako Aoki
Lifeguard (Part-Time Temporary)
$17,542.00
$0.00
$0.00
$19,366.00
$19,366.00
Daniel Grant
Lifeguard (Part-Time Temporary)
$18,663.00
$0.00
$0.00
$19,015.00
$19,015.00
Nathia Rosales
Lifeguard (Part-Time Temporary)
$18,728.00
$0.00
$0.00
$18,728.00
$18,728.00
Steve Galindo
Lifeguard (Part-Time Temporary)
$16,505.00
$0.00
$0.00
$16,892.00
$16,892.00
Diego Peralta
Lifeguard (Part-Time Temporary)
$16,673.00
$0.00
$0.00
$16,673.00
$16,673.00
Janette Herrera
Intern – Rent Stabilization & Housing
$16,637.00
$0.00
$0.00
$16,637.00
$16,637.00
Michele Pashayi
Senior Administrative Specialist
$4,077.00
$9,448.00
$1,594.00
$13,525.00
$15,119.00
Bryen Meza
Lifeguard (Part-Time Temporary)
$14,868.00
$0.00
$0.00
$14,985.00
$14,985.00
Lourdes Morales
Assistant City Clerk
$10,748.00
$728.00
$3,337.00
$11,476.00
$14,813.00
Valerii Goriatov
Lifeguard (Part-Time Temporary)
$14,408.00
$0.00
$0.00
$14,598.00
$14,598.00
Thomas Guffey
Lifeguard (Part-Time Temporary)
$13,939.00
$0.00
$0.00
$14,089.00
$14,089.00
Cameron Atin
Temporary Recreation Leader I (Part-Time Hourly)
$13,659.00
$0.00
$0.00
$13,659.00
$13,659.00
Rebecca Lubin
Temporary Administrative Specialist Iv
$12,972.00
$0.00
$0.00
$12,972.00
$12,972.00
Darnell Franks
Lifeguard (Part-Time Temporary)
$12,631.00
$0.00
$0.00
$12,631.00
$12,631.00
Thomas Shepard
Lifeguard (Part-Time Temporary)
$11,937.00
$0.00
$0.00
$12,479.00
$12,479.00
Mark Rubinov
Temporary Recreation Leader I (Part-Time Hourly)
$11,882.00
$0.00
$0.00
$12,195.00
$12,195.00
Katherine Fierro
Temporary Recreation Leader I (Part-Time Hourly)
$11,640.00
$0.00
$0.00
$11,640.00
$11,640.00
Maya Quarker
Recreation Assistant (Part-Time Hourly)
$11,408.00
$0.00
$0.00
$11,408.00
$11,408.00
Koran Tanner
Temporary Recreation Leader I (Part-Time Hourly)
$11,393.00
$0.00
$0.00
$11,393.00
$11,393.00
John Owen
Lifeguard (Part-Time Temporary)
$11,194.00
$0.00
$0.00
$11,384.00
$11,384.00
Glenn Nezgoda
Temporary Recreation Leader I (Part-Time Hourly)
$11,288.00
$0.00
$0.00
$11,288.00
$11,288.00
Lizbeth Perez
Lifeguard (Part-Time Temporary)
$11,082.00
$0.00
$0.00
$11,272.00
$11,272.00
Lee Nichols
Lifeguard (Part-Time Temporary)
$10,837.00
$0.00
$0.00
$11,238.00
$11,238.00
Angela Mishky
Intern – Long Range & Mobility Planning
$11,154.00
$0.00
$0.00
$11,154.00
$11,154.00
Miles Mort
Temporary Recreation Leader I (Part-Time Hourly)
$11,036.00
$0.00
$0.00
$11,036.00
$11,036.00
Dina Baram
Temporary Recreation Leader I (Part-Time Hourly)
$10,729.00
$0.00
$0.00
$10,768.00
$10,768.00
George Aguilar
Aquatics Aide (Part-Time Temporary)
$9,683.00
$0.00
$0.00
$10,511.00
$10,511.00
Aminah Abdul-Mujeeb
Temporary Recreation Leader I (Part-Time Hourly)
$10,497.00
$0.00
$0.00
$10,497.00
$10,497.00
Inbal Dayan
Lifeguard (Part-Time Temporary)
$10,110.00
$0.00
$0.00
$10,342.00
$10,342.00
Monica Gonzalez
Intern – Long Range Planning Division
$10,008.00
$0.00
$0.00
$10,008.00
$10,008.00
Luis Menendez
Lifeguard (Part-Time Temporary)
$7,915.00
$0.00
$2,024.00
$7,915.00
$9,939.00
Ruslan Khamatkhanov
Temporary Recreation Leader I (Part-Time Hourly)
$9,397.00
$0.00
$0.00
$9,426.00
$9,426.00
David Tripp
Recreation Aide (Part-Time Temporary)
$9,334.00
$0.00
$0.00
$9,346.00
$9,346.00
Nicholas Perloff-Giles
Intern – City Manager Dept
$9,329.00
$0.00
$0.00
$9,329.00
$9,329.00
Tomas Lutz
Lifeguard (Part-Time Temporary)
$8,487.00
$0.00
$0.00
$9,261.00
$9,261.00
Dakota Spycher
Intern – Community Development Department/Planning
$9,183.00
$0.00
$0.00
$9,183.00
$9,183.00
Jennifer Baram
Temporary Recreation Leader I (Part-Time Hourly)
$8,937.00
$0.00
$0.00
$8,949.00
$8,949.00
Moshe Froymovich
Temporary Recreation Leader I (Part-Time Hourly)
$8,837.00
$0.00
$0.00
$8,837.00
$8,837.00
Eve Baryotam
Lifeguard (Part-Time Temporary)
$8,269.00
$0.00
$0.00
$8,512.00
$8,512.00
Anna Solovey
Lifeguard (Part-Time Temporary)
$8,008.00
$0.00
$0.00
$8,198.00
$8,198.00
Marco Aguilar
Intern – Urban Design & Architecture Studio
$8,191.00
$0.00
$0.00
$8,191.00
$8,191.00
Kirill Strakhov
Temporary Recreation Leader I (Part-Time Hourly)
$8,184.00
$0.00
$0.00
$8,184.00
$8,184.00
Olivia Casalenuovo
Lifeguard (Part-Time Temporary)
$7,482.00
$0.00
$0.00
$8,091.00
$8,091.00
Kalen Lehmann
Lifeguard (Part-Time Temporary)
$7,788.00
$0.00
$0.00
$7,788.00
$7,788.00
Gary Potter
Recreation Assistant (Part-Time Hourly)
$7,726.00
$0.00
$0.00
$7,726.00
$7,726.00
Estella Toumayan
Lifeguard (Part-Time Temporary)
$7,451.00
$0.00
$0.00
$7,641.00
$7,641.00
Jesse Reid
Intern – Arts Division (Grant Funded)
$7,233.00
$0.00
$0.00
$7,233.00
$7,233.00
Vincent Lutz
Lifeguard (Part-Time Temporary)
$7,211.00
$0.00
$0.00
$7,211.00
$7,211.00
Connor Stevens
Lifeguard (Part-Time Temporary)
$6,482.00
$0.00
$0.00
$6,704.00
$6,704.00
Andrei Siuziumov
Lifeguard (Part-Time Temporary)
$6,003.00
$0.00
$0.00
$6,509.00
$6,509.00
Sara Ebrahimpour
Temporary Recreation Leader I (Part-Time Hourly)
$6,213.00
$0.00
$0.00
$6,213.00
$6,213.00
Finn Gregori
Lifeguard (Part-Time Temporary)
$5,987.00
$0.00
$0.00
$6,177.00
$6,177.00
Allen Tsiyer
Temporary Recreation Leader I (Part-Time Hourly)
$6,125.00
$0.00
$0.00
$6,125.00
$6,125.00
Kristina Hardy-Planck
Lifeguard (Part-Time Temporary)
$6,114.00
$0.00
$0.00
$6,114.00
$6,114.00
Jamie Delgado-Juares
Recreation Aide (Part-Time Temporary)
$5,960.00
$0.00
$0.00
$5,960.00
$5,960.00
Tatiana Khabbaz
Intern – Building And Safety Division
$5,524.00
$0.00
$0.00
$5,524.00
$5,524.00
Moses Baryotam
Lifeguard (Part-Time Temporary)
$5,171.00
$0.00
$0.00
$5,382.00
$5,382.00
Marcus Vazquez
Intern – Urban Design & Architecture Studio
$5,071.00
$0.00
$0.00
$5,071.00
$5,071.00
Katherine McNeil
Lifeguard (Part-Time Temporary)
$4,867.00
$0.00
$0.00
$5,057.00
$5,057.00
Makaila Dodd
Lifeguard (Part-Time Temporary)
$4,718.00
$0.00
$0.00
$4,908.00
$4,908.00
Joshua Martis
Intern – Arts Division
$4,684.00
$0.00
$0.00
$4,684.00
$4,684.00
Jose Gonzalez
Aquatics Aide (Part-Time Temporary)
$4,504.00
$0.00
$0.00
$4,504.00
$4,504.00
Latoya Jackson
Temporary Recreation Leader I (Part-Time Hourly)
$4,497.00
$0.00
$0.00
$4,497.00
$4,497.00
Loren Story
Lifeguard (Part-Time Temporary)
$4,277.00
$0.00
$0.00
$4,277.00
$4,277.00
Emily Varley
Intern – Community Development Department/Planning
$4,106.00
$0.00
$0.00
$4,106.00
$4,106.00
Karen Ramirez
Lifeguard (Part-Time Temporary)
$3,953.00
$0.00
$0.00
$3,953.00
$3,953.00
Amanda de la Paz-Rangel
Intern – Arts Division
$3,912.00
$0.00
$0.00
$3,912.00
$3,912.00
Kieran Gregori
Lifeguard (Part-Time Temporary)
$3,514.00
$0.00
$0.00
$3,714.00
$3,714.00
Ricardo Leyva
Intern – Parking Operations Division
$3,484.00
$0.00
$0.00
$3,484.00
$3,484.00
Tori Duarte
Temporary Recreation Leader I (Part-Time Hourly)
$3,440.00
$0.00
$0.00
$3,440.00
$3,440.00
Carlos Garay
Recreation Aide (Part-Time Temporary)
$3,357.00
$0.00
$0.00
$3,357.00
$3,357.00
Amanda Garcia
Lifeguard (Part-Time Temporary)
$3,353.00
$0.00
$0.00
$3,353.00
$3,353.00
Emily Lambert
Lifeguard (Part-Time Temporary)
$3,327.00
$0.00
$0.00
$3,327.00
$3,327.00
Damien Aviles
Recreation Aide (Part-Time Temporary)
$3,129.00
$0.00
$0.00
$3,129.00
$3,129.00
Christian Villalta
Aquatics Aide (Part-Time Temporary)
$2,978.00
$0.00
$0.00
$2,978.00
$2,978.00
Ray Watanabe
Lifeguard (Part-Time Temporary)
$2,656.00
$0.00
$0.00
$2,846.00
$2,846.00
Aleksei Garnov
Lifeguard (Part-Time Temporary)
$2,809.00
$0.00
$0.00
$2,809.00
$2,809.00
Feltus Frost-Elam
Lifeguard (Part-Time Temporary)
$2,777.00
$0.00
$0.00
$2,777.00
$2,777.00
Monica Arroyo
Lifeguard (Part-Time Temporary)
$2,688.00
$0.00
$0.00
$2,688.00
$2,688.00
Yesenia Marin-Acosta
Lifeguard (Part-Time Temporary)
$2,620.00
$0.00
$0.00
$2,620.00
$2,620.00
Emily Avila
Recreation Aide (Part-Time Temporary)
$2,587.00
$0.00
$0.00
$2,587.00
$2,587.00
Mahreen Alam
Intern – Innovation
$2,565.00
$0.00
$0.00
$2,565.00
$2,565.00
Ansley Hunt
Recreation Aide (Part-Time Temporary)
$2,368.00
$0.00
$0.00
$2,368.00
$2,368.00
Sofia Ludovisi
Aquatics Aide (Part-Time Temporary)
$2,275.00
$0.00
$0.00
$2,275.00
$2,275.00
Christopher Molina
Lifeguard (Part-Time Temporary)
$2,273.00
$0.00
$0.00
$2,273.00
$2,273.00
Ian Lee
Lifeguard (Part-Time Temporary)
$2,195.00
$0.00
$0.00
$2,195.00
$2,195.00
Mary Isabella Casalenuovo
Lifeguard (Part-Time Temporary)
$2,181.00
$0.00
$0.00
$2,181.00
$2,181.00
Nicolas Fife
Intern – Arts Division (Grant Funded)
$2,136.00
$0.00
$0.00
$2,136.00
$2,136.00
Connor O'Sullivan
Lifeguard (Part-Time Temporary)
$1,900.00
$0.00
$0.00
$2,090.00
$2,090.00
Yovana Paspalj
Lifeguard (Part-Time Temporary)
$2,036.00
$0.00
$0.00
$2,036.00
$2,036.00
Emily McNeil
Lifeguard (Part-Time Temporary)
$1,969.00
$0.00
$0.00
$1,969.00
$1,969.00
Lydia Salvador
Lifeguard (Part-Time Temporary)
$1,540.00
$0.00
$379.00
$1,540.00
$1,919.00
Aurora Zakai
Lifeguard (Part-Time Temporary)
$1,914.00
$0.00
$0.00
$1,914.00
$1,914.00
Haimanot Shimeles
Recreation Aide (Part-Time Temporary)
$1,892.00
$0.00
$0.00
$1,892.00
$1,892.00
Jeffrey Corbett
Lifeguard (Part-Time Temporary)
$1,873.00
$0.00
$0.00
$1,873.00
$1,873.00
Aidan Holliday
Intern – Building And Safety Division
$1,729.00
$0.00
$0.00
$1,729.00
$1,729.00
Elena Ferranti
Lifeguard (Part-Time Temporary)
$1,647.00
$0.00
$0.00
$1,647.00
$1,647.00
Hunter Garza
Aquatics Aide (Part-Time Temporary)
$1,647.00
$0.00
$0.00
$1,647.00
$1,647.00
Jessica Moore
Lifeguard (Part-Time Temporary)
$1,591.00
$0.00
$0.00
$1,591.00
$1,591.00
Chi Hang Kat
Lifeguard (Part-Time Temporary)
$1,479.00
$0.00
$0.00
$1,479.00
$1,479.00
Khoiriyah Firdaus
Recreation Aide (Part-Time Temporary)
$1,361.00
$0.00
$0.00
$1,361.00
$1,361.00
Aaron Wittrock
Lifeguard (Part-Time Temporary)
$1,158.00
$0.00
$0.00
$1,348.00
$1,348.00
Angel Avila
Lifeguard (Part-Time Temporary)
$1,335.00
$0.00
$0.00
$1,335.00
$1,335.00
Riley McLaughlin
Recreation Aide (Part-Time Temporary)
$1,308.00
$0.00
$0.00
$1,308.00
$1,308.00
Marcus Mazakian-Moncibaez
Lifeguard (Part-Time Temporary)
$1,135.00
$0.00
$0.00
$1,135.00
$1,135.00
Sofia Mireia Erpe
Recreation Aide (Part-Time Temporary)
$1,121.00
$0.00
$0.00
$1,121.00
$1,121.00
Jose Lara
Lifeguard (Part-Time Temporary)
$1,090.00
$0.00
$0.00
$1,090.00
$1,090.00
Margaret Flynn
Aquatics Aide (Part-Time Temporary)
$1,082.00
$0.00
$0.00
$1,082.00
$1,082.00
Andrew Jones
Temporary Recreation Leader I (Part-Time Hourly)
$927.00
$0.00
$0.00
$927.00
$927.00
Erico Gualberto
Temporary Recreation Leader I (Part-Time Hourly)
$679.00
$0.00
$0.00
$679.00
$679.00
Alireza Safarpour Erfani
Lifeguard (Part-Time Temporary)
$653.00
$0.00
$0.00
$653.00
$653.00
James Mikkelsen
Aquatics Aide (Part-Time Temporary)
$615.00
$0.00
$0.00
$615.00
$615.00
Michelle Acosta
Lifeguard (Part-Time Temporary)
$576.00
$0.00
$0.00
$576.00
$576.00
Armando Ayala
Lifeguard (Part-Time Temporary)
$489.00
$0.00
$0.00
$489.00
$489.00
Salomon Lopez
Temporary Recreation Leader I (Part-Time Hourly)
$344.00
$0.00
$90.47
$344.00
$434.47
Paul Castellana
Intern – Community Development Department/Planning
$416.00
$0.00
$0.00
$416.00
$416.00
Raffaella Rubenstein
Lifeguard (Part-Time Temporary)
$401.00
$0.00
$0.00
$401.00
$401.00
Andrea Moncada
Temporary Recreation Leader I (Part-Time Hourly)
$219.00
$0.00
$47.00
$219.00
$266.00