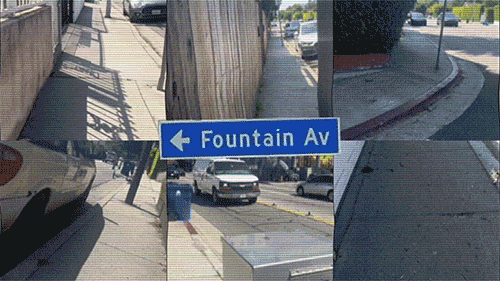 A major upheaval of Fountain Avenue looms on the horizon, but exactly what this vital West Hollywood corridor will look in the future is anyone's guess.
The underlying truth in Bette Davis' famous quip — asked by Johnny Carson how an aspiring starlet could get to Hollywood, the actress replied "Take Fountain" — is that this notoriously narrow road was and remains to this day the fastest way to drive east or west through WeHo.
But it won't be much longer, at least for drivers.
City Hall is already spending between $5 million and $10 million on a project that will re-invent Fountain Avenue, first and foremost by turning the four-lane road into a two-lane road with protected bike paths. That also means eliminating 150 of the coveted parking spots along the north side of the road. The second half of the project, set to begin in early 2025, includes the reconstruction of the sidewalks, reconfiguring utilities and evaluating how the changes have affected traffic flow and quality of life thus far. The cost of this phase could run as high as $35 million.
Since you won't get to see the thick, professionally bound reports that City Hall has commissioned from their high-priced consultants for many months or years, if ever, WEHOville decided to get a jump on things by giving you a look at the state of the road and the sidewalks as they are today — and let me tell you, it ain't pretty. I suggest you buckle up.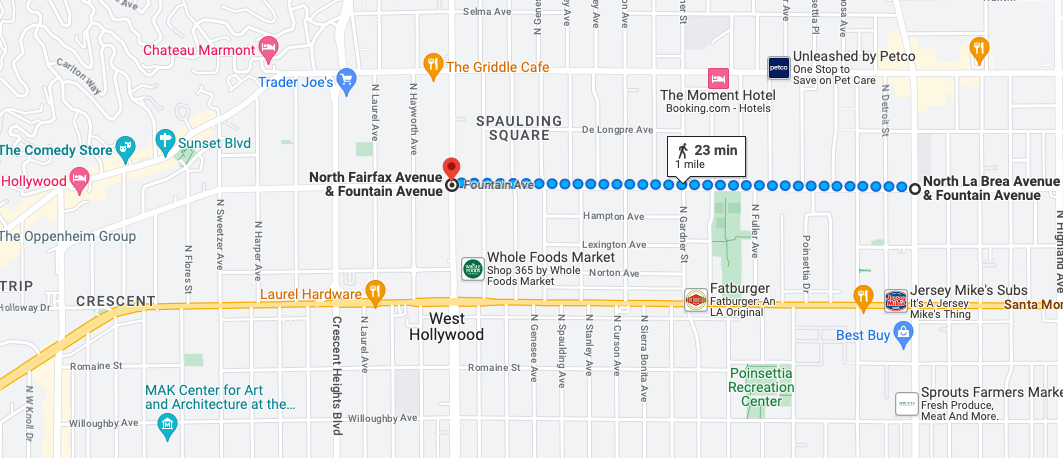 LA BREA TO FAIRFAX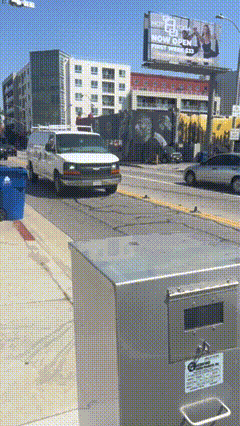 Our journey began Thursday mid-day in the hinterlands of this fair realm, the intersection of Fountain and La Brea. For many WeHoans, Shalom Peace Square marks an unofficial border crossing between West Hollywood and not-West Hollywood, between the bourgeois bubble and the barbarian wastelands beyond.
That's the "East of La Brea" joke, which is classist and condescending but based in reality. The East Side of WeHo is plagued by potholes, piecemeal repairs, shitty old buildings, bewildering signage, crumbling concrete, vagrancy, urban blight galore and the sad pallor of long-term neglect. But as you head west, you see improvement with each passing block. By the time you get to Fountain's western terminus at La Cienega Boulevard, you may as well be in a different city. It's shameful.
For this part of my investigation, I *walked* my bike on the sidewalks from La Brea to Fairfax, a 1-mile stretch that took about 20 minutes at an unhurried pace. I didn't *ride* my bike because 1) y'all with your torches and pitchforks 2) Riding a bike on these sidewalks is at best a pain in the ass, and at many spots it's impossible 3) I wanted the experience of a pedestrian who wasn't empty-handed — a parent with a baby stroller, a dog walker, an unhoused dude with a grocery cart.
Note: I started off walking on the north sidewalk until I got to Plummer Park, when I remembered the north side of the street isn't actually in West Hollywood. But WeHo's sidewalk has the same problems as L.A.'s parallel section does:
Utility poles poking right out the middle of the sidewalk.
Road markings so confusing they may as well be encrypted.
Important parking signs placed in easy-to-miss spots.
Sidewalks uprooted by beautiful shady trees that, sorry, are just too big now.
Manic or unconscious homeless people
Bird and Lime scooters improperly parked or willfully left in harm's way
A minefield of random obstacles: construction debris, tension cables, utility boxes, traffic cones, bollards, garbage and, not infrequently, steaming piles of shit.
There are many places on Fountain's sidewalks that are borderline impassable for an able-bodied adult on foot. For someone in a wheelchair or on crutches, someone who was partially sighted or recovering from an illness, or a caregiver, or even someone only slightly klutzier than I am, this would be a nightmare.
It suddenly occurred to me how often I was tripping on ornamental grasses, ducking tree branches and squeezing past overgrown privacy hedges. Aren't these code violations? Why is so much valuable space taken up by planter boxes and half-assed landscaping, fences, walls, unused private patios and unpaved dirt?
As a car driver, I'd seen bicycle icons painted on roads before but I didn't know they had any real purpose and had no idea they were called "sharrows." Did you? Sometimes they're in the middle of the road, sometimes they're on the edges. Like most of the signage on Fountain and elsewhere, there's little uniformity. Some crosswalks have a button and warning lights, sometimes they don't. Sometimes sidewalks have ramps, sometimes they're just steep dropoffs. Sometimes little plastic sticks divide the road so drivers have to make a right turn, and sometimes they get run over.
Between La Brea and Fairfax, there were about 20 parked cars and 10 empty parking spots on the road's north side at this time of day, when many people are away at work and parking restrictions are at their loosest. The south side had far fewer empty places to park, and certainly not enough to accommodate the cars if there were no northside parking spots.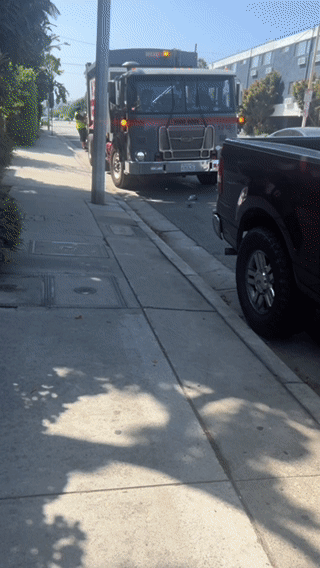 Thursday is apparently a trash pickup day on Fountain, so blue bins added to the melee, and the Athens trucks were out in full force. I'm still not clear how the city expects them to operate with the bike lanes in place. Will the trucks stop in the middle of the (two-lane) road while they empty each bin, halting all traffic behind them?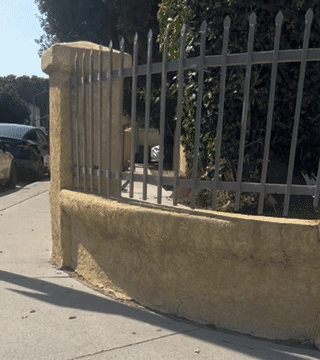 Few other pedestrians were out and about during my journey. Passing by them required some planning and maneuvering and courtesy yielding.
On my entire trip, I saw only one other person with a bike on Fountain Avenue.