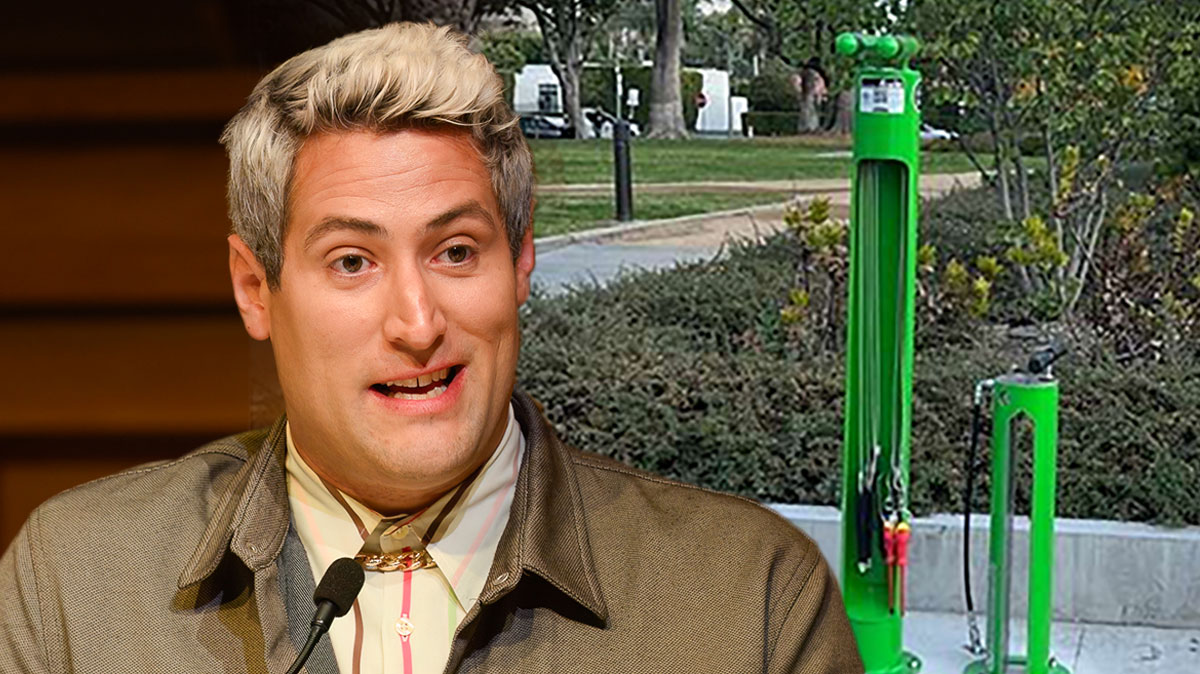 West Hollywood may be bitterly divided over whether Fountain Avenue and/or Santa Monica Boulevard should be torn up to make room for bike lanes, but Mayor Pro Tem John Erickson has a shrewd idea that will make cyclists happy without pissing anyone else off: bicycle repair stations.
Erickson's item on the City Council budget for Monday proposes a pilot program that would install test stations at two TBD locations in WeHo. The program was inspired by the City of Beverly Hills, which installed repair stations last November drawing much acclaim and few complaints, according to the staff report. WeHo aims to stick close to Beverly Hills' successful model (seen above):
"To date, (Beverly Hills) shared that these stations have been well received and there has been no challenges for (their) staff with these stations," the report reads. "The bicycle repair station in the City of Beverly Hills includes necessary tools for performing basic bike repairs and maintenance," including Phillips and flathead screwdrivers, a variety of specialized bike wrenches and two tire levers.
The stations might even come with two hanger arms, which would allow two people to use each station at once, and an adjacent Air Kit bike pump, which would give riders the full gamut of tools needed to repair and maintain their rides.
WeHo's Facilities and Field Division would head up the program with guidance from the Public Facilities Commission. City Hall estimates a cost of $9,000 — pennies compared with what the city tends to spend on items like this.
We often implore our elected officials to ditch their frivolous pet projects and focus on the "nuts and bolts" of government. Erickson has taken that advice literally, and his plan could not have arrived at a better time. By gifting WeHoans with a shiny new amenity that's both useful and frugal, Erickson has scored a solid win for himself right as his 2024 re-election campaign starts blipping on our radars.
And where there's a wheel, there's almost surely a way.