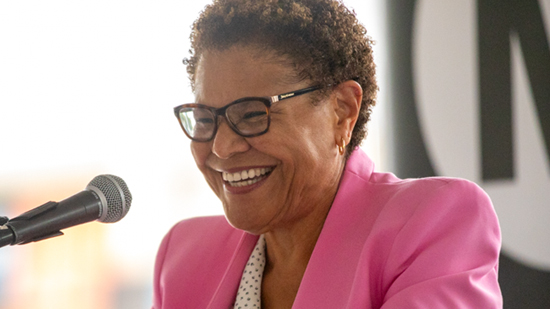 Metro Friday officially opened 5.7 lane miles of bus priority lanes on La Brea Avenue, spanning across the cities of Los Angeles and West Hollywood.
Metro said the bus lanes will bring "quicker, more reliable bus service through one of the most congested corridors." Representatives from the city and county of Los Angeles, as well as L.A.'s Department of Transportation joined Metro for Friday's celebration.
"Angelenos deserve a Metro system that can get them where they need to go reliably, quickly and safely," Stephanie Wiggins, CEO of Metro, said in a statement. "Infrastructure improvements like the La Brea bus priority lanes help us make progress towards those goals and help us deliver for our riders who rely on the Metro system."
Wiggins expressed her gratitude to the Department of Transportation, and all partners, for working to make the La Brea bus priority lane a reality.
The first phase of the La Brea Bus Priority Lanes Project, from Sunset Boulevard to Olympic Boulevard, is expected to improve bus speeds by 15% or more, increase service frequency and reliability, as well as transporting riders without widening streets or adding more infrastructure, according to Metro.
This project will benefit more than 8,900 daily riders who ride Metro Bus Line 212.
"The La Brea bus priority lanes will provide improved access to job- rich centers along the Santa Monica business corridor, bringing people into Hollywood and West Hollywood quicker and with more ease," L.A. County Supervisor and Metro board member Lindsey Horvath said in a statement.
"With the future opening of the D (Purple) Line, these priority lanes will drastically improve service and increase access for our residents who rely on safe, efficient transportation to move throughout the region," she added.
Bus priority lanes will give buses priority access during weekday peak hours, between 7 to 9 a.m. and 4 to 7 p.m. Buses will run every ten minutes during bus lane hours.
Additionally, West Hollywood's Cityline shuttle service will use the lanes to access the Hollywood/Highland B (Red) Line Station in Hollywood.
The second phase of bus priority lanes on La Brea Avenue, which are still in the planning and study stage, will eventually add 5.2 lane miles from Olympic Boulevard in Mid-Wilshire to Coliseum Street in South L.A. — connecting to the Expo/La Brea E (Expo) Line Station.
Wiggins said bus priority lanes are a "key part" of Metro's NextGen Bus Network strategy, which is intended to make public transit better and more reliable for millions of Angelenos who ride Metro.
"The lanes will save thousands of Metro bus riders time and help make our buses more reliable on the La Brea corridor," Wiggins said in a statement.
Metro opened up almost 40 miles of bus priority lanes across the city of Los Angeles, and the agency plans to open more than 100 miles of these lanes in the coming months and years.