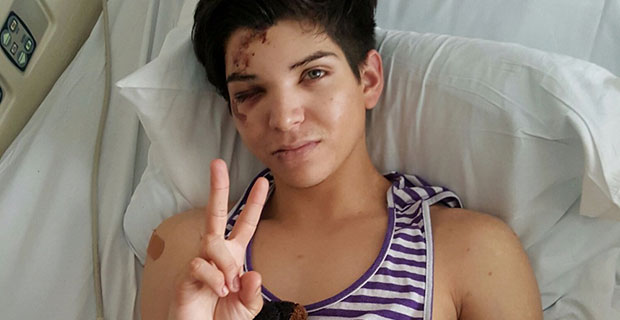 The man with a blood-soaked face and hands who was found near the Gelson's Market parking lot last Monday has been identified.
He is Anthony Villegas, 23, who works as a fashion consultant and publishes a popular blog called OfMiceAndMensWear.com.
Villegas' mother, Desiree Ortiz, reached out to WEHOville today to offer information about her son's attack. A story published on WEHOville last week recounted rumors that had spread among Gelson's employees and neighbors on North Kings Road, some of whom believed a dead body had been found in the parking lot. Lt. David Smith of the West Hollywood Sheriff's Station told WEHOville that a man with bleeding lacerations to his body was in or near the Gelson's parking lot sometime in the early hours of Monday morning and was mobile. Smith said that deputies called to the scene tried to talk to him to learn what had happened, but the man refused that and their offer to help. A resident of North Kings Road who watched Sheriff's deputies arrive on the scene  told WEHOville that Villegas actually was just outside the Gelson's parking lot at the water fountain on the southeast corner of Santa Monica Boulevard and Kings.
Ortiz said her son initially was unconscious when he was found. The resident who observed the situation, who asked that he not be identified, told WEHOville that Villegas was conscious when the deputies arrived. He was taken to Cedars-Sinai Medical Center. Ortiz said he suffered five fractures to his face, two of which were near his eye socket, which may require plastic surgery. He also suffered  injuries to his back.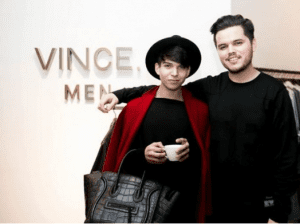 Ortiz said her son, who is gay and currently lives with her in Cypress, had been visiting friends in West Hollywood and was having a drink at Barney's Beanery. He left that restaurant and bar on Holloway Drive near Hacienda Place to visit a nearby friend's apartment. Ortiz said the friend never saw Villegas but spotted his car parking where it had been the night before.
Ortiz said doctors at Cedars-Sinai said his injuries could be consistent with a beating, a rape or being hit by a car. Ortiz said sheriff's deputies interviewed her son at Cedars but that he recalled nothing about the incident after his departure from Barney's Beanery.
Ortiz said her son has "a very positive attitude" about his recovery. He was transferred to Kaiser Permanente Medical Center and now is at home. Friends have launched a "Go Fund Me" effort online to help pay for Villegas' medical care. As of publication, it has attracted 48 contributions totaling $2,400. A Gelson's employee found Villegas' cell phone.
Ortiz said her son hopes that news of the attack will spur West Hollywood residents and visitors to be more aware of their surroundings.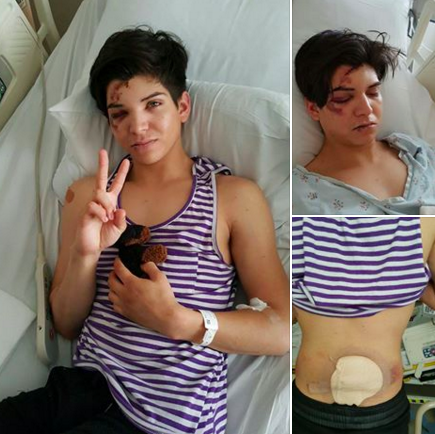 "He wants people to be aware of their surroundings, to be alert as to where they are. He's a small guy with an alternative lifestyle and he was a target," she said, alluding to her son's gay orientation.
While it's not clear exactly where Villegas was attacked, the fact that he was found on a corner of  North Kings Road has alarmed people on that residential street. On Dec. 29 a man delivering food from Bossa Nova restaurant to a condo at 1025 N. Kings Rd. was shot several times by someone who stole his credit car processing machine and cell phone. The attacker, who had been involved in a number of violent crimes, was captured by the L.A. Police Department on Jan. 4.
The North Kings Road attack was one of at least ten street robberies taking place mostly in the city's residential areas in November and December. One of those, on Dec. 6, occurred in front of 1250 N. Kings Rd., just south of Fountain Avenue. The Inglewood police last month arrested several people who the West Hollywood Sheriff's Station believes may have been involved in some armed street robberies in West Hollywood.
While the city and the Sheriff's Station continue to tout West Hollywood as one of the safest places to "live, work and play," publicity about the street crimes has alarmed local residents, some of whom say they have curbed their night life excursions.
A 2014 report by the Los Angeles County Sheriff's Department shows that West Hollywood had the highest rate of "Part 1" crimes of any of the 23 areas it serves. Part 1 crimes include crimes against people and property such as arson (no reported incidents in West Hollywood in 2014), homicide (one incident), rape (seven incidents), car theft (87 incidents), robbery (theft that involves force; 96 incidents), burglary (breaking or entering; 220 incidents) and larceny (theft that doesn't involve force, such as stealing a bicycle or shoplifting: 1,191 incidents). A report on serious crimes from the West Hollywood Sheriff's Station showed a 14% increase last month over November 2014. A major reason for the increase was a surge in petty thefts, defined as theft of property worth $950 or less, which were up 47%. There were only nine armed robberies, down from seven in November 2014.
Sergio Aloma, the West Hollywood station's acting captain, told the City Council recently that the station has stepped up car patrols on residential streets and on the city's Eastside.
EDITOR'S NOTE: A resident of North Kings Road who observed the Villegas incident told WEHOville that he was discovered at the water fountain on the corner of the  Gelson's parking lot and not within the parking lot. This story has been updated to include that correction.