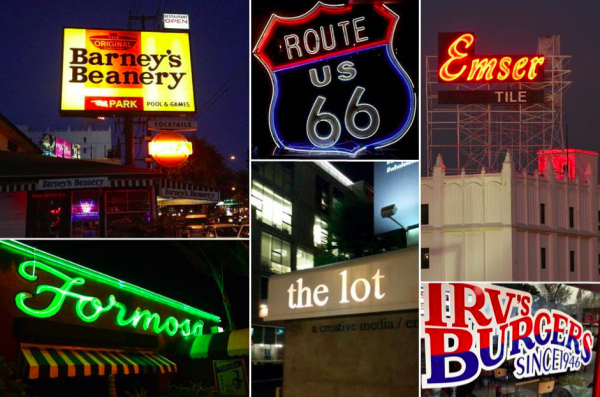 U.S. Route 66 lives on, and not just in the memory or imagination of anyone who has ever had a love affair with the open road. The most famous highway in the country and probably in the world turns 90 years old on Nov. 11, when those who motor west can see how see how it forever changed the community of West Hollywood.
Nor does it live on solely through travelers' tales about getting their kitsch at mom-and-pop motor courts painted turquoise blue, alligator farm tourist traps, roadside diners with blue plate specials and most of all, bright neon light signs. Route 66 represents something much larger, mainly by making California far more accessible.
Scott Piotrowski, executive director of Highway Journeys, says it is "the quintessential image of Americana and westward migration, from those of the Dust Bowl to the international travelers seeking out the highway today." His organization is the presenter of a festival in downtown Los Angeles Nov. 10-13 to commemorate the 90th anniversary of the "Mother Road."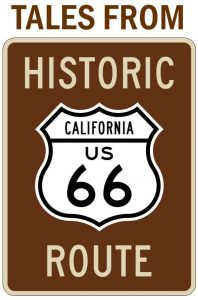 "Before Route 66 was created in 1926, Southern California was largely isolated by mountains and the dreaded Mojave Desert," Piotrowski notes. "The road removed that that feeling of isolation among small towns along its path, opening the region to people and industry. Route 66 solidified the area as a major market nationally. This is true also of West Hollywood, whose history and growth mirrors motion pictures, the car culture and fast food, an unbeatable combination along any highway."
The town of Sherman seemed to anticipate the route by renaming itself West Hollywood a year before the 2,500-mile road from Chicago to Los Angeles reached its doorstep. "America's Main Street," as it also was called, followed Santa Monica Boulevard through West Hollywood, immediately becoming a major lifeline connecting business and personal traffic through the region.
Yes, there is meaning in the existential values Route 66 is said to be all about: self-discovery and the promise of transformation that comes from looking for a place you've never seen but you know is there. But public road planners' practical goal yielded tangible results. From the outset, they intended U.S. 66 to supplement railroad and streetcar routes by connecting main streets of small towns, most of which no prior access to a major national thoroughfare.
Director Cecil B. DeMille once observed that "The American love of motion and speed was embodied in the two industries" of motion pictures and automobiles. He was right about film and cars developing in many similar ways and along the same timelines.
Route 66 facilitated a shift in motion picture production from East to West by making it practical to move equipment and people to work in Southern California's warm climate. Many of the most important early moviemakers came to avoid Thomas Edison's merciless enforcement of his motion picture patents. Although they arrived before the highway was actually in place, their emigration led the way for hundreds of thousands more to arrive at the Entertainment Capital of the World well into the 1960s.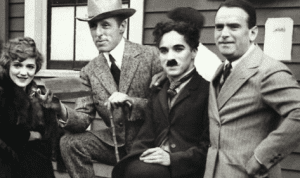 The "Golden Age of Hollywood" is considered to have started in 1927, when "The Jazz Singer" was released and the year after Route 66 was launched. The road inspired musicians, writers and filmmakers as well as explorers and dreamers, many of whom found jobs in a growing motion picture industry.
Around 1918, during the heyday of the Model T, Jesse D. Hampton built a simple film studio (now known as The Lot) at the corner of Santa Monica Boulevard and Formosa Avenue. Little did he know that his small studio would be passed to some of the greatest influences in film. Mary Pickford and her husband, Douglas Fairbanks, purchased Hampton Studios and established Pickford-Fairbanks Studios in 1922, later to become United Artists in 1927.
This is where movies including "Wuthering Heights" (1939), "Some Like It Hot" (1959) and "West Side Story" (1959) were shot. Television series like "The Fugitive" and "Dynasty" were filmed there, and Bruce Springsteen used the facilities to record the "Bruce Springsteen – Plugged" album for MTV in 1992, to name only a few.
Within four years of Route 66 reaching L.A., four automobile manufacturers opened assembly plants in the area. "Garages and auto dealerships sold, repaired and sometimes even assembled cars that crowded Route 66 and local roads by the middle of the 20th century," the National Park Service reports. "Garages and dealerships provided tangible indicators of the social and economic changes generated by the highway."
Military / Defense Industry
Completing the all-weather Route 66 prior to World War II was a huge contribution to the war effort, making possible the greatest wartime manpower mobilization in the country's history, according to the website National66. Between 1941 and 1945, the government invested approximately $70 billion in capital projects throughout California, a large portion of which was in the Los Angeles area, it states.
"This enormous capital outlay served to underwrite entirely new industries that created thousands of civilian jobs locally," says National66.
An example of how this benefited West Hollywood is The Factory, built in 1929 by Mitchell Camera Company to make motion picture cameras that became the industry standard for many decades. Norden also manufactured bombsites for B-29 bombers there. A Norden bombsight reportedly was used on the Enola Gay, the plane that dropped an atomic bomb that annihilated Hiroshima. Norden and Mitchell Camera Company were a fortuitous pairing because Norden bombsights were fitted into Mitchell military cameras aboard bombers.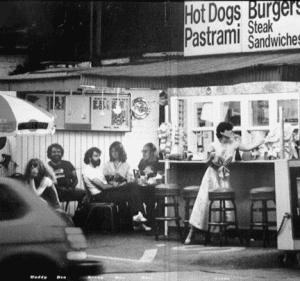 Diners / Fast Food
Barney's Beanery founder John (Barney) Anthony felt like he had taken the risk of a lifetime in 1927 when he moved his juke joint and pool hall from Berkeley, Calif., to a shack surrounded by poinsettia fields on a dirt road in West Hollywood. Today the location is known as Holloway Drive and Santa Monica Boulevard.
In no time at all, his roadhouse was frequented by actors such as Clara Bow, John Barrymore, Jean Harlow, Bette Davis and Clark Gable. It was a beatnik hangout in the 1950s and a watering hole for 1960s rockers like Jim Morrison and Janis Joplin, who favored booth #34.
Route 66 invented the fast food industry, embodied along Santa Monica Boulevard by other places including the Formosa Café, founded in 1934; Irv's Burgers, opened in 1948, Astro Burger, opened in 1974; Hamburger Haven, Fatburger, L.A. Buns & Co. and the much more recent Shake Shack.
Irv's Burgers began as a classic Route 66 gas/service station and fast food restaurant when it first opened at 8289 Santa Monica Blvd. Always a favorite of the rock crowd, it was the cover photo setting for Linda Ronstadt's 1978 album, "Living in the USA." She's seen in the photo grabbing a burger and reaching for a bag of chips.
Now About That 90th Anniversary …
There's just one small inconvenience for West Hollywood about Route 66's 90th anniversary. The section that runs through the city isn't actually part of the original route established in 1926.
In fact, the West Hollywood section wasn't added until more than nine years later, on Jan. 1, 1936, to be exact, according to Piotrowski of Highway Journeys. When the joint board of highway officials from the eight states where Route 66 ran stitched the route together, it decided to terminate the road in downtown Los Angeles, near Clifton's Cafeteria at Broadway and 7th Street.
The route eventually was extended westward to the intersection of Lincoln and Olympic boulevards in West Los Angeles, Piotrowski says. The leg that was added ran along Santa Monica Boulevard from Sunset Boulevard in Silver Lake, through West Hollywood and then to it western terminus.
West Hollywood officials aren't sweating the fact that their part of the fabled route won't turn 90 until 2025. They're planning to mark the anniversary in November like everyone else. The added leg of Route 66 became the answer to a trivia question about why it terminated in two different locations.