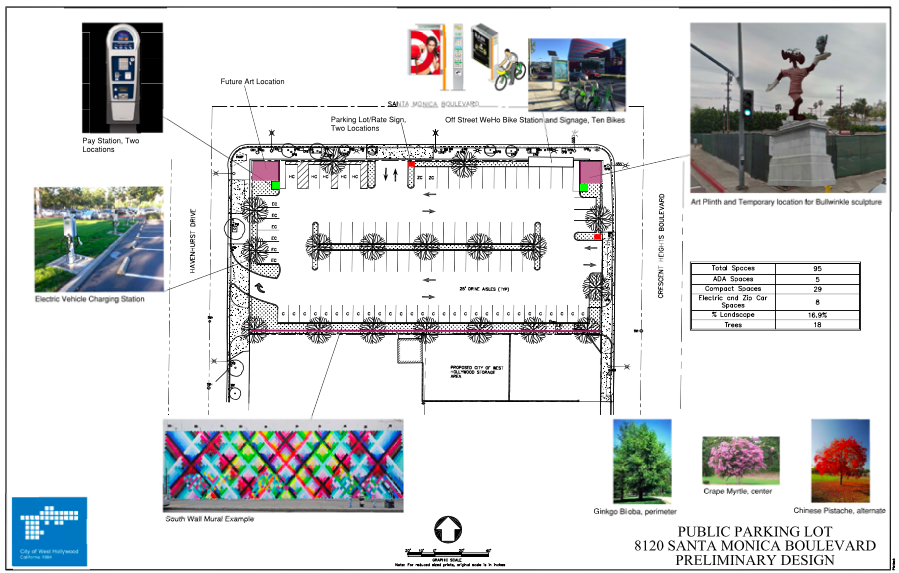 Local residents and business owners had mixed reactions last night to a proposal to put a parking lot on the lot at 8120 Santa Monica Blvd. bounded by Crescent Heights Boulevard and Havenhurst Drive.
The lot, which would have 95 parking spaces, would be an interim use of the property until the City of West Hollywood develops a final plan for the one-acre lot, which it purchased in 2015 from Walgreens for $7 million.
Oscar Delgado, the city's director of public work, said plans are to include art works, including a temporary installation of the famed Bullwinkle, which eventually will be placed at the Sunset Spectacular project on Sunset Boulevard. The lot will include Ginko trees along its border with Santa Monica and crepe myrtle trees in the center of the lot. Helen Collins of Public Works said the city has removed possibly toxic soil from a dry cleaner previously on the lot.
Delgado described the proposed lot as "multimodal," noting there will be six electric vehicle charging stations, possibly two spaces for Zip short-term rental cars and a WeHo Pedals bike station. Delgado said the parking meters will accept credit and debit cards and eventually Google Pay and Apple Pay payments. And monthly parking permits on the lot will be available.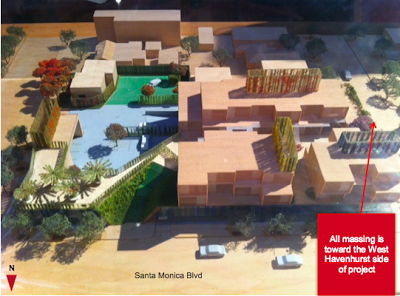 Some residents objected to adding more parking to their neighborhood, saying there already is enough. Graciela Iparraquirre said a better use of the property would be as a park that includes a place where dogs can play.
Iparraguirre said there already are 241 parking spaces in the area, which includes the 200 spaces in the automated parking garage behind City Hall on Sweetzer Avenue, three blocks away.
"We need a pocket of sanity," she said, advocating for the park.
Local resident Dan Morin said he saw a contradiction in the city's claim that it wants to make WeHo more walkable and get people out of their cards and also wants to add more parking spaces.
Morin said he feared that the proposed parking lot would not be replaced by another use anytime soon. "This should not be shoved down our throats," he said. "Why not a park instead?"
Delgado said the lot had to have some parking-related function given that the city paid for it with money from a city fund dedicated to parking whose revenues come from parking fines and permits. He also said the lot will help fill a gap in parking resources because the city's lease of the parking lot at 1114 N. Orange Grove Ave. soon will expire. That lot, four blocks east of the 8120 Santa Monica lot, now accommodates 45 cars, and Delgado said the property owner does not intend to renew the lease. Delgado said that, based on the public input, his office would consider adding more green space to the lot.
Marco Cappani, whose Marco's restaurant was displaced when Walgreens began demolition on the 8120 Santa Monica lot a decade ago, now operates that restaurant from the southwest corner of Havenhurst and Santa Monica. He said those working in his restaurant have trouble finding parking and have to look for spaces on Havenhurst south of Willoughby Drive in Los Angeles.
"I've had customers come into the restaurant and say they have driven by so many times and can't find a place to park," he said.
David Noe, another resident, said that converting the lot into a park would mean it would attract homeless people. He said his guests have to park three or more blocks away in Los Angeles to visit him.
Plans for the lot have been contentious since Walgreen's bought it 10 years ago for a reputed $3.5 million. The pharmacy company demolished popular local businesses such as Tasty Donut and Marco's restaurant and unveiled plans for a multi-use project that drew opposition from local residents who formed a "No Walgreens" advocacy group. The project would have included a large Walgreen's store and 28 apartments and offered a left turn lane for drivers on Crescent Heights Boulevard headed north toward Santa Monica.
Plans for the project dragged on for a number of years until in 2015, Walgreens, whose financial problems forced it to close 200 of its 8,232 drugstores in the United States and the U.S. Virgin Islands and Puerto Rico, offered the land to the City of West Hollywood.
Delgado argued last night that the city's ownership of the lot, which is in a very prominent WeHo location, means residents "are going to have a much greater voice than if a developer owned it."
Delgado said it is impossible to project when the city might move forward with other plans for the lot. He said his office plans to hold another neighborhood meeting in the next 45 days to get more input on the plan.