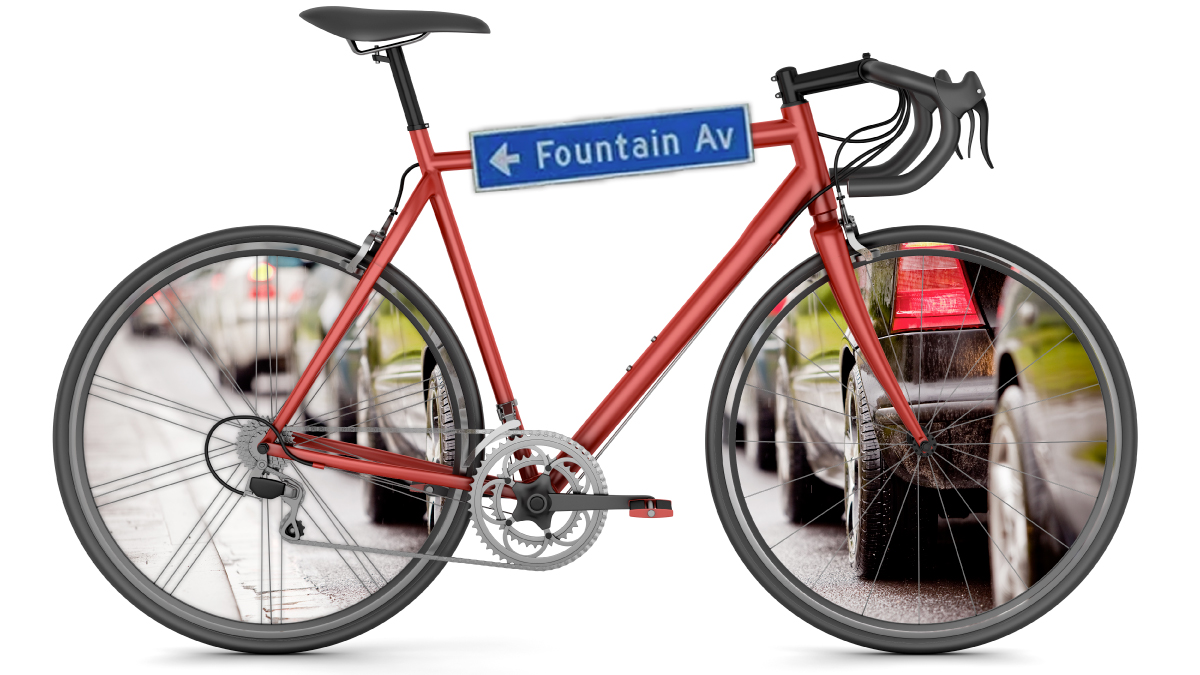 Adding bike lanes would worsen traffic, reduce parking spaces for residents, according to city's study
At their first post-election meeting on Monday night, City Council will try to tackle one of the campaign season's true hot-button topics — bike lanes on Fountain Ave.
Councilmembers will be presented with the study they asked for in 2021 on how feasible the idea is. The study lays out three options for integrating bike lanes, two of which would require the removal of two lanes of traffic from the four-lane road. The thought of an even narrower, more congested Fountain Ave. horrified residents who live along it, as well as WeHoans citywide who regularly drive it.
Former Councilmember John Duran broke the story to the public in a WEHOville opinion piece and made his opposition to the plan a central part of his campaign platform.
Fountain Ave. runs 1.9 miles through West Hollywood and currently provides what is known as a Class 3 bicycle route, having no dedicated or marked bike lanes, but allowing bicycles to use the vehicular lanes. The road carries up to 37,000 vehicles through West Hollywood per day — Councilmember John Erickson memorably referred to it as a "death trap" during an April 2022 Council meeting.
Eighty percent of its sidewalks are substandard, according to federal ADA standards.  Any improvements to Fountain Ave. would trigger a legal requirement to widen the sidewalks to comply with those standards, which require at least 36 inches of a clear path of travel for pedestrians and people with disabilities.
The study notes that changes to Fountain Ave. would force up to 40 percent of the street's traffic onto nearby Santa Monica and Sunset boulevards, prolonging rush hour congestion.
ALTERNATIVE ONE: Protected Bike Lanes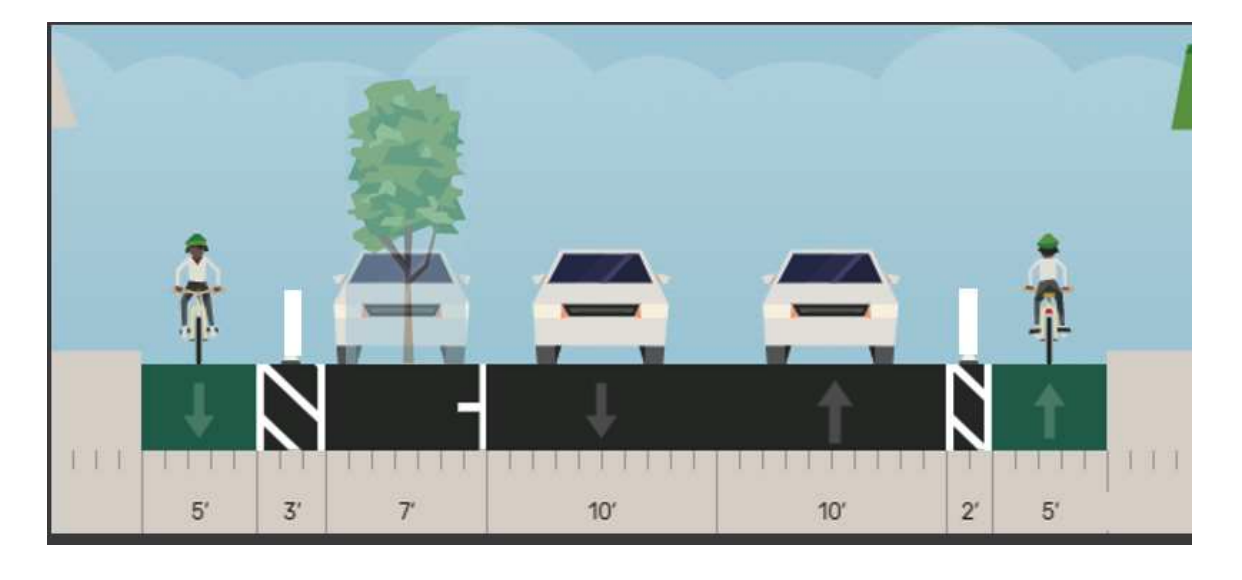 This plan calls for 7 to 8 feet of space for the bike lanes, as well as barriers that separate them from vehicular traffic
PROS: Best protection for bicyclists, greatest overall safety upgrades, sidewalks brought up to standard
CONS: Loss of between 150 and 190 on-street parking spaces on one side of Fountain Avenue 
ALTERNATIVE TWO: Striped bike lanes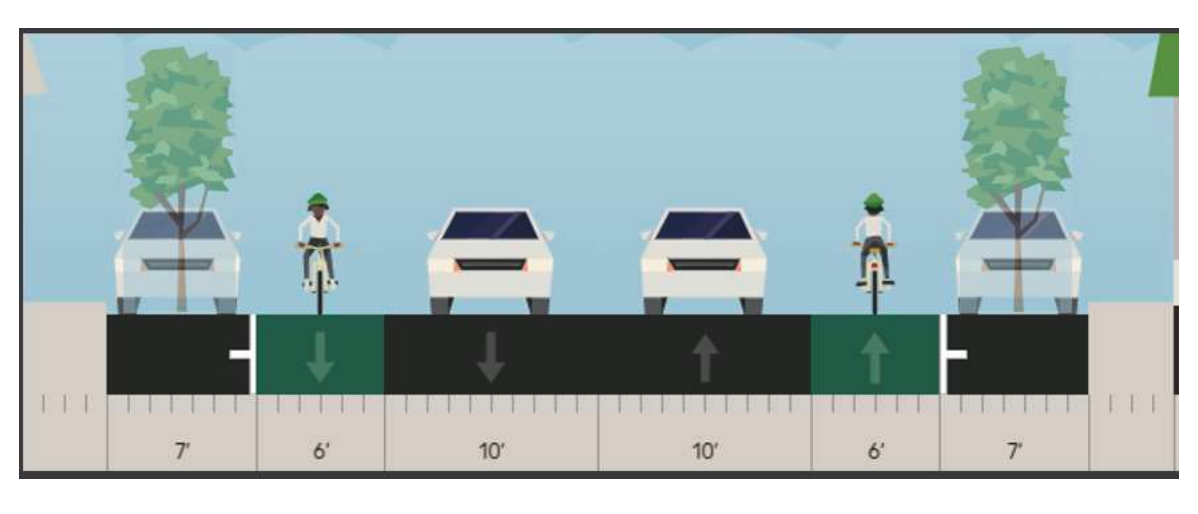 Alternative Two gives the bike lanes 5 to 6 feet of width, but no barriers.
PROS: Less disruptive than Alternative One, some sidewalks brought up to standard
CONS: Loss of between 35 and 40 parking spaces
ALTERNATIVE THREE: Leave Fountain Ave as is
If Council decides to proceed with Alternatives One or Two, city staff and the consultants on the project will produce detailed construction plans and provide cost estimates. If those are approved, the city will test the bike lanes as a temporary project.

Loading ...
PARTICIPATE IN THE MEETING
TO PARTICIPATE BY PROVIDING WRITTEN CORRESPONDENCE OR AN E-COMMENT:
Members of the public who wish to comment on matters before the City Council are strongly encouraged to submit written correspondence to publiccomment@weho.org or submit an E-Comment by visiting www.weho.org/wehotv no later than 2:00 p.m. Monday, Nov. 21. 
TO PARTICIPATE BY PROVIDING PUBLIC COMMENT BY TELEPHONE:
(Please note: This option is to provide public comment via phone ONLY. To view the meeting, please see information on how to view the meeting provided above.)
1. You are strongly encouraged to e-mail the City Clerk at publiccomment@weho.org no later than 2:00 p.m. on the City Council meeting day, to be added to the Zoom Public Speaker List for the meeting. Please include your name, the phone number from which you will be calling, and which item you would like to speak on.
2. Dial-in 10 minutes prior to the start of the meeting (the meeting begins at 6:00 p.m.)
• Dial-in #: 669-900-6833
• Meeting I.D.: 838 4053 6503, then #